Patikka
Dhani Waterfall
Kutton Waterfall
Keran
Upper Neelum
Sharda
Arrang Kel
Taobat
Ratti Gali
Kel
For booking Call Now: 03455889945 or drop us an Email at [email protected]
Neelum Valley is a most beautiful place on earth. It is famous for its panoramic views, charming weather, beautiful landscapes, freshwater streams, and lush green mountains cover with forests and a hok for many animals.
Looking into the geographical details of this beauty piece, it covered an area of 3,621 km² with population of 191,251. Located approximately above 400 meters above sea level makes it an ideal place for tourists to visit. This place has dipped with some amazing beauty and attraction for tourists to explore. This valley is easily approachable from kaghan and Noori Top. Besides these many minor passes are also present.
What makes Neelum valley a must place to visit? The amazing highlighted spots, small villages, lakes and mountain passes are the reason for tourists to visit. This valley is surrounded by fascinating and snow-capped mountains. The tourists can enjoy trekking, hiking and paragliding from the adjusted mountains which comes with fast flowing Neelum river.
Neelum valley has a lot of beautiful attractive sights which can challenge an adventous tourist to plan a journey towards It.
Taobutt
Taobutt, a hidden gem of azad Kashmir is located at 49 kilometers from Kel. Probably the last hill station of the Neelum valley. It has incredible natural landscape and natural beauty but not explored yet. Being inhabited by simple and innocent people, the beauty of this village is enhanced by the hospitability of these local people.
Tourists can also visit adjusted areas of Taobutt, like Janawai, and Sardari. They are also extremely beautiful locations with heavy snow views at winter. Often there are no signs of path due to land sliding and flooded water streams. In summer it is a worth place for tourist to visit.
Arang Kel
Arang kel is a lush green village located with an altitude of 8,379 feet. It is difficult to reach there because of landslides and road blockage especially during winters. But anyone who want to see the heaven on earth, must visit this place. Its beautiful landscape gives an astounding look and provides a peaceful ambiance to visitors.
Ratti Gali Lake
Ratti Gali lake is located at an elevation of 12,130 feet and fed by the glaciers water that comes from the surrounding mountains. It takes approximate 3 hours to reach the lake from twin cities. On a way to Ratti Gali lake, tourists explore two beautiful lakes. The summer is the perfect season to enjoy the pleasant weather and astonishing serenity. Further, tourists can enjoy different activities like camping, fishing, cooking, hiking and trekking.
Chitta Katha Lake
Chitta Katha, a highest lake with 13,500 feet, is located at the Shounter valley. This valley is easily accessible from kel with a distance of 155 kilometers from Muzaffarabad. It remains frozen in most of the year and only accessible in 2-3 months of the summer season. A person can reach this lake by trekking from upper domail of Shounter valley.
The word chitta means white while Katha means stream. It is surrounded by the combination of many villages with huge glaciers, that's the reason of its milky white reflection.
Keran Valley
Keran village is another tourist resort located at 93 KMs (3 hours) drive from from Muzaffarabad. It has some of the picturesque scenery, lush green fields, fruits trees which attract the tourists from all over the world. Another attraction is the bridge that connects both Pakistan and Indian borders. The management of AJK Tourism Department is working to convert Keran valley into a hub of tourist resorts.
Sharda
Sharda is located at a distance of 136 KMs from Muzaffarabad and is lying between Karen and Kel. It is the most enchanting village of azad Kashmir. This place is more famous for its prominent institution known as Sharda University and a Hindu goddess Sharada Perth. Tourists can enjoy 3-4 feet snowfall in winters, Jet skiing, camping in riverside and much more.
Patikka
Patikka is at a drive of 17KM from Muzaffarabad. It is a first destination spot and gateway to Neelum valley. This area is popular for its fish hatchery and for a mini zoo. A rest house for tourist is being constructed there by AJK tourism department.
Kutton
Kutton is located 85 KMs from Muzaffarabad. This area is mostly covered with snowfall and there are beautiful waterfalls and streams. Tourists can enjoy fishing, trekking and hiking. The tourism department is working to smooth its unpaved road.
Neelum Valley peaks
Neelum valley has a dense and thick forest covered with an elevation of 4000-7500 feet. On either side, the elevation reaches up to 17000 feet.
Neelum Valley Lakes
Neelum valley has beautiful lakes where tourists can enjoy base camp and fishing. The Shounter has seven more lakes like chitta Katha, Lunda sar lake, Parrian sar, Baboon lake, Sar wali base camp lake and spoon lake.
FAQs
How is the weather of Neelum Valley?
The Neelum valley is accessible in all the twelve months. If you want to explore areas ahead of Neelum valley like Sharda, kel or Taobutt then the best time is to visit between April and October. The temperate of these areas can drop into negative in winter season. The only suitable time to enjoy pleasant weather, hiking or other activities is between July to September. It is recommended to bring warm clothes and other accessories that can save tourists from cold.
Hotels in Neelum Valley
There are many top and affordable Neelum valley hotels available for tourists. They have all the basic and general facilities; the tourists look for. The Neelum hotel, Paradise lodge, Keran, Keran resort, State continental Sharda, Sharda highland hotel and Neelum hotel kel are the some of the best options for tourists.
Roads to Neelum Valley
The road condition from Islamabad to Neelum valley is smooth. But in winter, the road onward to Keran is extremely bad and sometimes blocked during to heavy snowfalls.
Best time to Visit Neelum Valley
The best time to visit Neelum Valley is April to October. You will get a chance to enjoy pleasant and calm weather without any problem of land sliding or snow.
How to reach Neelum Valley
From Islamabad, there is distance of 234.9 km. it takes approximate 7 hours to reached there. Tourists can avail their own private vehicle or public transport. The Islamabad to Neelum valley bus service is highly recommended. To travel further from Neelum valley, one has to hire a jeep.
Is it Safe to visit Neelum Valley?
The road to Neelum valley is safe to reach during summers while in winter the road to Keran, Sharda, kel and Taobutt is dangerous and block during to land sliding and heavy snowfalls. People are very friendly and caring.
Attractions for Foreigners in Neelum Valley
Foreigner tourists can enjoy the beauty of lakes and rivers. The adjusted areas of Neelum valley are extreme beautiful with varieties of lush green meadows, pleasant weathers and hiking options.
Distances (Travel Time) to Neelum Valley
Islamabad to Muzaffarabad: 3h 30 min (136 km)
Muzaffarabad to Keran: 3h 30min (56.1 km)
Keran to Sharda: 2h (25.5 km)
Sharda to Kel: 1h (21.0 km)
Kel to Taobutt: 1h (40.5 km)
Tour Packages Neelum Valley
AJKTOURS offers variety of customized tailor-made tour packages meeting your expectations and needs. We do offer Hotels accommodation, fully guided tour, transportation and bed & breakfast. Neelum Valley Tour Packages –Customize and book tour packages in Neelum Valley and find best deals on Neelum Holidays Tour Packages.
Read more about Neelum valley ↓
Neelum is a valley of fountains, springs, waterfalls, flowering trees and plants. Geographically too, it is a hospitable valley. The Neelum Valley, 90 miles long bow-shaped with majestic pine, fir and deodar trees, lies north-south of Muzaffarabad (capital). This ninety-mile long kingdom of vegetation is ripped apart by the indigoblue Neelum river which flows serpentinely down hills to merge itself into the river Jhelum at Domail. Domail, the confluence of two mighty rivers, presents highly fascinating scene of youthful embrace. This heart-warning spectacle is most soothing to the eye. The valley, starting from Muzaffarabad, the capital of Azad Kashmir, is about 150 miles long. It lies on both sides of the river Neelum. The geographical features enhance the natural beauty of the Valley. Its elevation, a mere 2,000 feet at the start, gradually rises till it attains a respectable height of 8,000 feet. On both sides there are high mountains and peaks. Nearly all the forest wealth of Azad Kashmir is to be found in this part of the State. There are two approaches to the valley. One from the Kaghan Valley which is linked with it at two points, the Nuri Nari Hali (Pass) and the Ratti Gali and many minor Passes. From Dawarian it takes two days for hiking or riding and night stay at Dharian at 12,000 feet. The second approach is from Muzaffarabad. It is a distance of 55 miles which is jeepable in fair weather. The Neelum meets the Jhelum river at Domali (meeting of the two) on the outskirts of Muzaffarabad city. From Paticka forest one reaches Nosari, 24 miles ahead of Muzaffarabad. Next come Chaliana (height 3,200 feet), Qazi Nag, Barian, Salkhela, Kundal Shahi, Athmaqam on this road. On a number of places, the local population has built rope crossings on the river. It is a very dangerous device and the very thought of crossing these points is horrible but thrilling. Tao Butt is an example of vegetational generosity of the liberal nature. The spot is donned with all delicacies and niceties. Nature flirts here with fantastic environment. The forest wealth abounds in the Neelum Valley. Deodar, pine, fir, wild walnut, strawberry and hosts of other high statured trees and other types of wild growth and herbs are the treasure of the valley. Besides being invaluable in economic terms, the variety of natural growth offers a captivating scenery. Shunder Hill tops are covered with green forests and the fields are lush green with crops.
Pattheka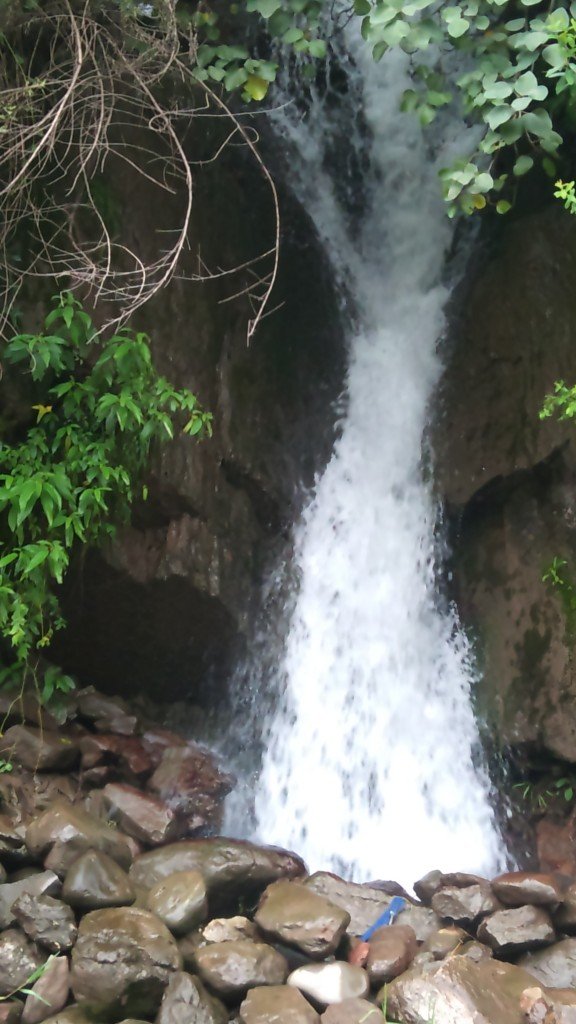 The valley is accessible by an all weather road metalled up to Kundal Shahi and well maintained up to Kel. At the gateway to the Valley lies a sprawling town of Pattheka with a dependable commercial centre. For a tourist, Pattheka can be the first journey break. This town has a modest bazaar with day-to-day activity. All essential items are available in the bazaar which feeds a fairly large number of villages behind it. On its back runs the forth-emitting river Neelum. The village and bazaar are connected by a suspension bridge crossable by jeep alone. This old bridge is being replaced with an RCC one enabling it to afford heavy traffic. The running streams, water channels and water falls across the Pattheka village present another heart winning scene. It is fully electrified. A few years back, the Federal Minister of Power and Water, Government of Pakistan had a hydel station built in this village over a perennial nullah which is in fact a mini river of Pattheka. The quality of life here is full of emotions despite its simplicity. It is perhaps due to verdure. Financially, it is an affluent town. Majority of the village folk is engaged in profitable business abroad especially in the Middle East countries. A number of scheduled banks of Pakistan are operating in the village on the strength of remittances from abroad. But despite fattening coffers, the town has no industrial activity. The ratting of machinery is unknown to the town. The serene atmosphere shrouded into lush greenery and milky-white waterfalls and water curses and their rhythmic flow totally absorbs the visitors. Added to the general plant fragrance is the sweet smell of menthol plants along the banks of the nullah, it cuts its way across the crop-fields in such wavy manner that it looks as a white ribbons over green head of damsel Nature. Bhateeka is linked by ancillary roads with other surrounding areas uphill and downhill. Kundal Shahi Jagran Valley: (Rest House available) At a distance of 74 Km. from Muzaffarabad one can reach Kundal Shahi. From this place a visit can be planned to the loveliest part of the Neelum Valley, commonly known as Jagran Valley.

Nestled in the lower part of Neelum valley, the picturesque "Jagran" is its inseparable part. Jagran Nullah (stream) is indispensable and plays pivotal role in the formation of its landscape beauty and charm which reveals the richness of the area. On the side lane of the impressive Tourists Resort the ever flowing greenish and surf gushing waters of Jagran Nullah add to its peculiar character. jagran Nullah, rushing downwards all along the tall grooves of trees is almost small river. Surrounded by scintillating beauty under the shades of the majestic snow-clad mountains the river is freezing cold. The snowmelt of these sky heights named "Jagran Nullah" is also know for rout fishing attracting angles all over the seasons. In Jagran places like kutton, Thunian, Ghansee and Pattlian Sar are worth-seeing and inviting everyone to visit and enjoy. Jagran is ideal for mountaineers and takers too. Here the mountains are ranging from 4000 feet to 1400 feet above sea level. The ever green forests are stretched in the far flung lush green plateaus with abundance of wildlife. Gradual and fathering of uphill distance is encountered with the pleasant and soothing environ which never fades into memory.
It is the entrance of Jagran. Here Jagran Nullah converges into Neelum River. It is situated at a distance of 74 Kilometers from Muzaffarabad and about 5 kilometers from Authmuqam. In Authmuqam and Kundal Shahi almost all basic necessities are available in the local market.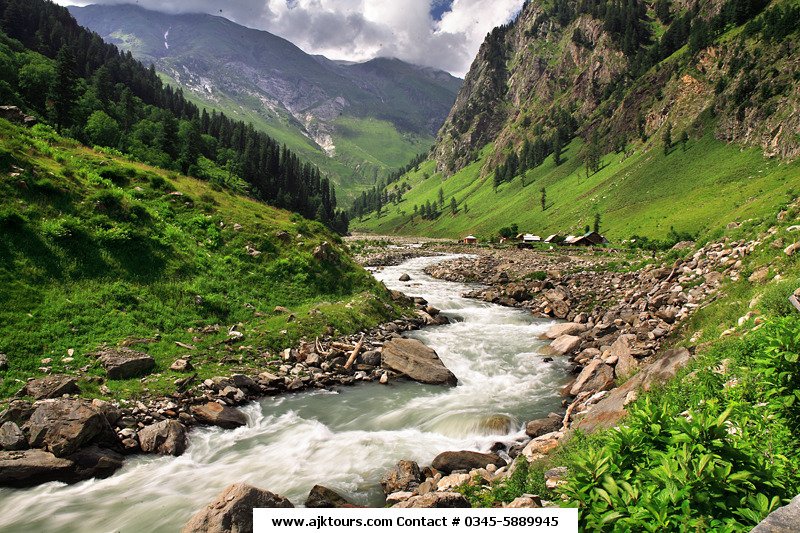 Uphill road from Kundal Shahi leads to Kuttonat a distance of 6 kilometers. The picturesque Kutton and Jagran is best to visit during April to October. Here the Greater Hydle Power is also an additional attraction for the tourists. The famous Nullah Jagran passes through this valley. At kutton about 8 kilometers from Kundal Shahi a hatchery for Trout fish is established by the fisheries department. Tourism Department has provided accommodation facilities for the visitors here.
Not more than 3 kilometers from Kundal Shahi across the river Neelum one can enjoy the lovely place Salkhala. A Trout hatchery has been established by the Azad Kashmir Fisheries Department. A reasonable accommodation facility is available here.
10 Kilometers from Kundal Shahi is the Sub-Divisional Head-quarter of the area. The bazaar consists of over a dozen shops with a post office and telephone call office. This place is suitable for the people interested in calm and quit atmosphere.
Neelum Another 9 Km journey ahead of Athmaqam takes you to Neelum. It is situated on the right bank of river Neelum opposite to the Keran village (Indian occupied Kashmir). Neelum having an altitude of 1524 meters above sea level is very popular among tourists. (Rest House)
So far is the half of the Neelum Valley and after it are the more enchanting spots full of exuberance and life. Keran is another beauty spot on the river side with a neat and clean wooden flooring rest house. Its lawns slope down towards the western bank of the river. Commodities are transported to the bazaar from Athmaqam by trucks. The physical feature of Keran resort resembles a broad forehead of a person with thick hair on the head. Stay is more comfortable here.
Dowarian Dowarian at a distance of 13 Km from Neelum at an altitude of 1615 meters is surrounded by mountains full of conifer trees. Over here a mule track up to Rattigali pass (about 30 Km) towards west, connects the Neelum and Kaghan Valley.
(Rest House available) The most picturesque place in Neelum Valley is " Sharda" it is located at a distance of 136 Km from Muzaffarabad and 30 Km from Dowarian. It is a breath taking spot. This place from the point of view of tourists is so attractive and captivating that they get their money's worth when they spend a few days here in their sojourn amidst nature. In Sharda one also finds ruins of an old place of learning. The presence of these ruins (known as Sharda University) lends Sharda is a historical background providing special attraction for the people interested in archaeology and history.
(Pronounced as Kail): (Rest House available) 19 kilometers journey from Sharda, upstream takes one to Kel. It is a small valley at the height of 2097 meters. This is another picturesque place in the Neelum Valley . The Shounter Nullah joins river Neelum at this place and leads to Gilgit Agency over the Shounter Pass (4,420 meter). Kel is also a base camp of mountaineering activities up to " Sarawaal peak" 6326 meters above sea level and "Sarawaali Glacier" which are said to be the highest peak and biggest glacier of A.Kashmir. Buses ply daily on this route. It is advisable to hire a jeep from Athmaqam for a trip in to the Valley. Horses and ponies can also be hired locally for travel to the interior of the Neelum Valley. Banks, College, Hospital, Bazaar, PCO and a Tourist Motel are available here.
(Rest House available) The border village about 38 km ahead of Kel, is a fascination yet unexplored. Janawai, and Sardari are the most beautiful places around here. A tourist rest house had been constructed a Halmat to provide accommodation facilities to the visitors.
For booking Call Now: 03455889945 or drop us an Email at [email protected]