Swat is the third largest district of KPK, with a population of 2.31 million, according to the 2017 census. The Afghans and Pashtuns communities occupy the valley, and the language is most spoken there is Pashto/Pakhto. This valley is famous for its mountain views, green meadows and lakes, which also bring a lot of tourists. Also, locally knows as Switzerland of Pakistan because of its natural beauty and lush green valleys. The distance from Islamabad to Swat is 250 Kms while from Peshawar it is 160 Kms. Tourists can explore over 100 archeological sites in the Swat valleys. It is a place where visitors can enjoy hiking, trekking, and pleasant walks.
There are numerous tourist destinations in Swat. We have tried to cover a few areas in detail:
Kalam Valley
Kalam valley is a perfect combination of cold weather with picturesque locations. It is located at a distance of 99 km from the Swat Valley. The places within Kalam i.e., Matiltan, Utror, Usho, and Gabral added more to the beauties of the Swat and the perfect place to explore enchanting sceneries. Tourists can enjoy fishing, hiking, and boating.
Mahudand Lake
This lake is situated at a height of 9,603 ft and located in Kalam valley. It is enriched with green meadows and a must-visit place of Swat. Tourists can go camping in those green meadows, which is an ideal place to visit in midsummer. However, avoid visiting in winters as the lake is frozen and roads are blocks.
Kumrat Valley
Kumrat valley is 386km at a distance from Islamabad, and it takes almost 9 hours to reach there. From Swat, it is only a one-hour drive and an ideal place for base camping. Tourists can see the abundance of lakes and water streams here.
Read Also: Attractions | Things to do| Places to visit in Swat
One might experience a comfortable and relaxing night in camping, but if you are not satisfied, then many resorts and guest houses are also available. In Kumrat valley, tourists can visit Do Kala Chashma, Katora lake, Kalkot Banda, etc.
Madyan
Madyan is the famous hill station of Swat. This place is perfect for enjoying panoramic views, and it is surrounded by the swat river. It is also the place for its delicious mouthwatering trout fish. Even in summer, it has a pleasant atmosphere. The most eye-catching thing is the fluvial swat river in this place.
Read Also: Stunning Places to visit in Swat by AJK Tours
Bahrain
Bahrain is a place where two different rivers merge in one place. It is a hill station where tourists can experience the beauty of two rivers (Daral and Swat). Visitors can also do base camping as riversides. The climate is pleasant in every season. A must visit the place if you want to explore Swat truly.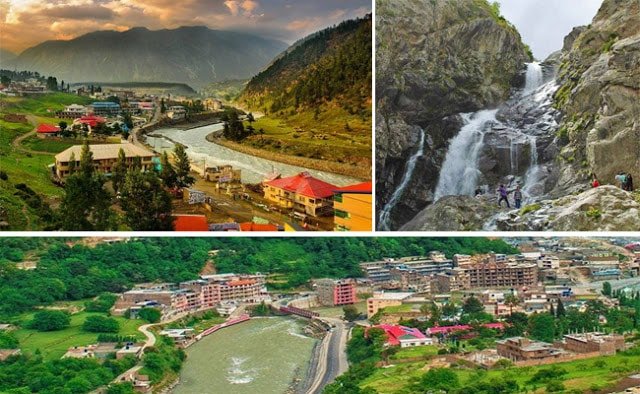 Saidu Sharif
Saidu Sharif another place where all the administration work of the city is done. The name comes from a prominent leader known as Saidu Baba. Tourists can visit archaeological sites like Royal Palace, Swat Museum, Tomb of Saidu Sharif. One can explore different antiques of the Gandhara art and Buddhist Stu in the swat river.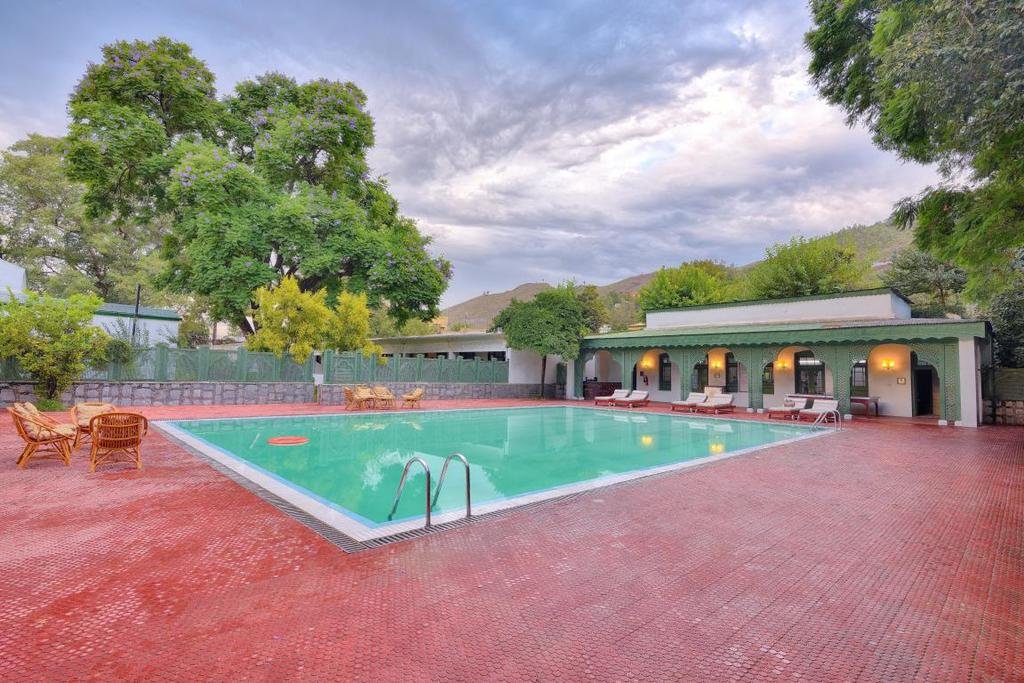 Malam Jabba
Malam Jabba is located at a distance of 314km from Islamabad and an extremely beautiful hill station of the Swat valley. The road to Malam Jabba is somehow curved and has steep paths, but no one can stop a beauty lover from reaching this marvelous destination.
All the essential and necessary facilities are available in Malam Jabba resorts. Most of all, trekking and sports facilities are a substantial attractive thing for many tourists. Malam Jabba is also known as skier's paradise for its beautiful ski slope mountains.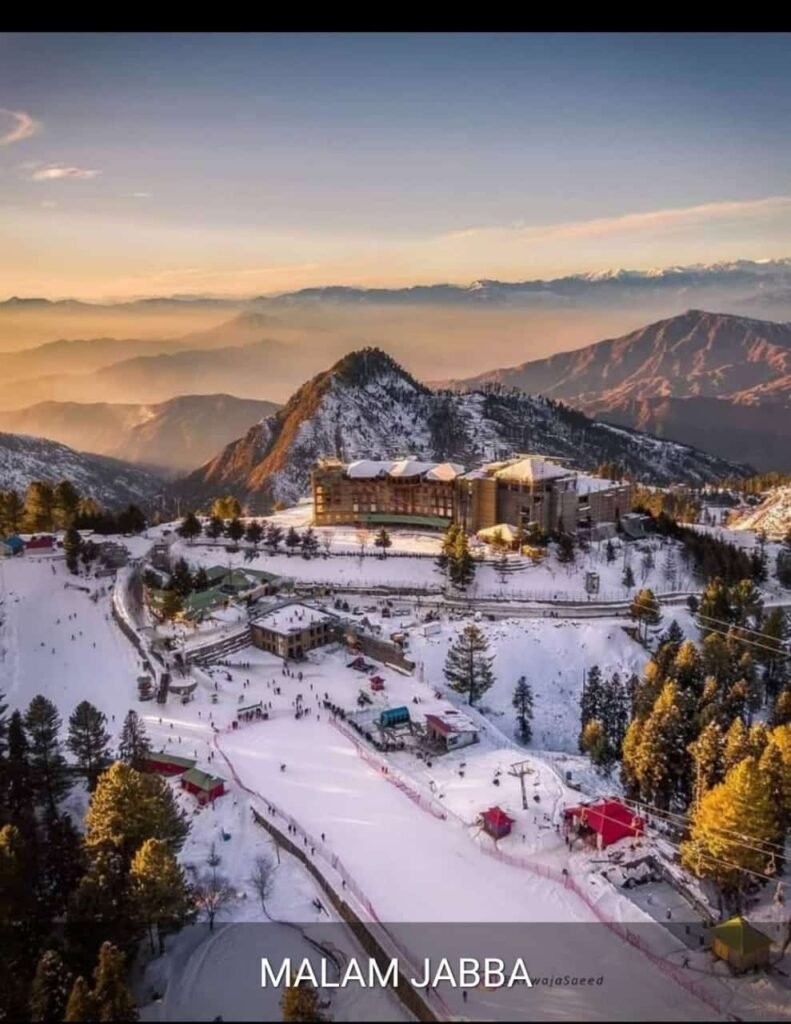 Fizaghat
Fizaghat, a first destination spot is Swat is located in the town of Mingora. The mouthwatering and delicious food along with the swat river makes this place a must-visit for every tourist. The places to visit in Fizaghat includes Mingora city, Marghazar white place, Budhkarha monastery and Odigram historical sites.
Kundol Lake
Kundol lies in between the mountains of Hindu Kush mountains. This lake is surrounded by snow-clad mountains and its beauty enhanced with lush green forests. Tourists can enjoy base camping, fishing and the real beauty of the lake with naked eyes.
Swat Perks
The elevation of the swat valley is 975.36 meters which further goes to 2900 meters. The highest peak of Hindu Kush Range in Swat Valley is Falak Sher/Sar Peak which is of 5918 meters. The Malakand passes between Mardan and Swat and is 470m to 663 m.
Swat lakes
There are many lakes in Swat that attract tourists in this valley. Famous lakes include Mahodand Lake, Pari (Khapiro) Lake, Kundol Lake, Bashigram Lake, Spin Khwar (White Stream) Lake, and Daral Lake.
How is the weather in Swat valley?
The Swat and other tourist destination spots in Swat all lie above some sea level. The annual temperature stays between 13.4 °C | 56.2 °F. The highest temperature is recorded in July i.e., around 24.1 °C | 75.4 °F while January remains as the coldest month with the temperature of about 1.5 °C | 34.7 °F.
Hotels in Swat Valley
Hotels in Swat are cheap and affordable than other destination spots. There are many good accommodation hotels available in different areas of the Seat Valley. Some are Swat Serena Hotel, Pameer hotel, Swat Continental Hotel, Hotel White Palace Swat, Thames Hotel, Sangam Hotel kalam, Rockcity Hotel, and many others.
Read Also: Best Hotels in Swat
Roads to Swat Valley
The way to Swat and Bahrain is very smooth and in good condition. But kalam road is damaged and bumpy due to floods in the past.
Best time to Visit Swat
The tourists can visit Swat valley in any month of the year, but those tourists who want to explore every nook and corner of the swat valley like USHU forest and Mahodand Lake, then visit in peak summers. The ideal and most suitable time is from mid of July to the middle of September.
How to reach Swat
It takes approximately 140KM (1.5 hours) from Islamabad to Mardan. The further time takes 3.5 hours or 110 KM from Mardan to Mingora (Swat). People traveling in their vehicles should take Motorway 9M-1) to reach Mardan, where they can further go for Swat.
Is it Safe to visit Swat?
In the past few years, there were many accidents about terrorists. But, after military operations, this area is the most peaceful and high security to visit with friends and families. Minor accidents are almost happening in every small or big city, but this doesn't mean that the place is not secure to visit.
Attractions for Foreigners in Swat
There a lot of attractions for tourists in Swat. They can visit Swat museum, recreation park in Fizaghat, Madyan (fish trout), Bahrain for base camping, kalam Valley for water streams, and waterfalls. Tourists interested in skiing and chairlift must make a trip to Malam Jabba.
Distances (Travel Time) to Swat
Islamabad to Mardan: 140Km, 1.5 hours Via Motorway (M-1)
Mardan to Mingora (Swat): 110 Km, 3.5 hours
Mingora to Malam Jabba: 45 km
Mingora to Bahrain: 66 km
Mingora to Kalam: 100 km
Tour Packages Swat
AJKTOURS offers a variety of customized tailor-made tour packages meeting your expectations and needs. We do offer Hotels accommodation, fully guided tour, transportation, and bed & breakfast. Swat Tour Packages –Customize and book tour packages in Swat and find the best deals on Swat Holidays Tour Packages.
Check our Featured: Swat Tour Packages