District Neelum:
About 240 kilometers long the picturesque District Neelur Valley is situated to the North & North East of Muzaffarabad (Running parallel to the Kaghan Valley it is separated from it t snow covered peaks, some over 4000 meters above sea level. Excellent scenic beauty, panoramic view, towering hills on both sides of the noisy Neelum river, lush green forests, enchanting streams, high altitude lakes and attractive surroundings make the valley a dream come true.The area is also ideal for mountain tourism. A part of Nang Parbat Massif Falls in this area which is dominated by "Sarwaali Peak" (6326 meters) the highest mountain in Azad Kashmir. Moreover like Kaghan Valley it is famous for fishing and anglin activities in Neelum river and Jagran nullah which are stock with trout fish.
A fair weather road opens the valley to tourists up to Kel, 1f kilometers from Muzaffarabad. Buses ply daily on this route and accommodation facilities are also available in the rest houses places of tourist attraction. Some of the places of tourist interest are:
Kundal Shahi:
It is 74Kms from Muzaffarabad. Here, silvery stream Jagran nullah joins river Neelum, where trout fish is found abundantly.
Kutton (Jagran Valley):
The bewitching beauty of Kutton permeated in the radius of 10 kilometers, makes Jagran Valley. The area is 16 kilometers from Kundal Shahi and is accessible by road. For the convenience of tourists, AJK tourism Department has constructed a rest house here. Whereas, accommodation facilities are also available in adjacent residential complex managed by the Hydro Electric Board. From here 16Kms onward, Thunian, Ghainsi and Jagran are located which are worth seeing spots for nature lovers and adventure seekers.
Salkhala:
About 5 kilometers ahead of Kundal Shahi, Salkhala is another secluded spot of tourist interest located across river Neelum. Here a trout hatchery has been established by AJK Fisheries Department. A Tourist Rest House and 3 huts are available here for accommodation.
Athmaqam:
Athmaqam is 10 kilometers from Kundal Shahi. It is located at a height of 1371 meters ASL. Being the districts headquarter of Neelum District, it serves as a take-off point for tourists interested in hiking and exploring the inner valley. It is an attractive place known for its variety of fruit. All necessary facilities viz bazaar, post office, banks, hospital, telephone and PWD rest house are available here.
Lower Neelum (Keran):
At a distance of about 9Kms from Athmaqam, Neelum (Karen) is situated on the Right Bank of Neelum River at about 1524 meters above sea level. It has fascinating scenery. A small bazaar and a tourist rest house situated on the bank of meandering river Neelum across which one can have a glance at the Indian held Kashmir.
Upper Neelum:
Upper Neelum (Neelum Village) is located at a distance of about two & a half kms from Keran. This panoramic lush green village, profound in wild fruit and wildlife, attracts the tourists from every nook & corner of the country. Another remarkable feature of this spot is that one can view the entire area of occupied Kashmir from here.
Owing to its tourist attraction AJK Tourism Department has launched a development project to convert both the Upper & Lower Neelum in to a Tourist Resort.
Dawarrian
Dawarrian is situated about 13Kms from Nee/um at an altitude of about 1615 meters. It is surrounded by mountains covered with Conifer trees. A mule track up to Ratti Gali Pass about 3Kms towards west connects the Neelum & Kaghan Valleys there is a Forest Rest House on the top of the hill and a tourist rest house is available for accommodation near main road. Located at a distance of 30 kilometers from Dowarrian, it is a breath- taking green spot at an altitude of 1981 meters. Shardi & Nardi are the two mountain peaks over looking the valley, named after legendary princesses, Sharda & Narda. It has a captivating landscape with numerous springs and hillsides covered with thick forest. Over the right bank, opposite to Sharda, the river Neelum is joined by the Surgan nullah along which a track leads to the Noori Nar Pass and through ti through it to Kaghan Valley.
Sharda
In Sharda, one also finds ruins of an old Buddhist Monastery and a fort which are of historical background. Facilities of a small bazaar.. Post Office, health center and Public Call Office are available in Sharda. The AJK Tourism Department has established here a "Tourist Village" consisting of Tourist Rest Houses, Youth Hostels, Cafeteria and Games room to facilitate tourists.
Kel:
19 kilometers journey from Sharda, upstream takes one to Kel. It is a small valley at the height of 2097 meters. This is another picturesque place in the Neelum Valley. The Shounter Nullah joins river Neelum at this place and leads to Gilgit Agency over the Shounter Pass (4,420 meter). Kel is also a base camp of mountaineering activities up to "Sarawaali Peak" 6326 meters above sea level and "Sarawaali Glacier" (about 25kms long) which are said to be the highest peak and biggest glacier of Azad Kashmir.
Buses ply daily on this route. It is advisable to hire a jeep from Athmaqam for a trip in to the Valley. Horses and ponies can also be hired locally for travel to the interior of the Neelum Valley. Banks, College, Hospital, Bazar, PCO and a Tourist Motel are available here.
The border village about 38 km ahead of Kel, is a fascination yet unexplored. Halmat, Tao Butt, Janawai, and Sardari are the most beautiful places around here. A tourist rest house has been constructed at Halmat to provide accommodation facilities to the visitors.
(Note): Some of the tourist places of Neelum Valley are situated in the range of Line of Control (LoC), therefore, sometimes it becomes difficult to visit these areas. So before visiting the valley, the visitors are required to get information from AJKTours.
Places to visit in Pictures.
For booking Call Now: 03455889945 or drop us an Email at [email protected]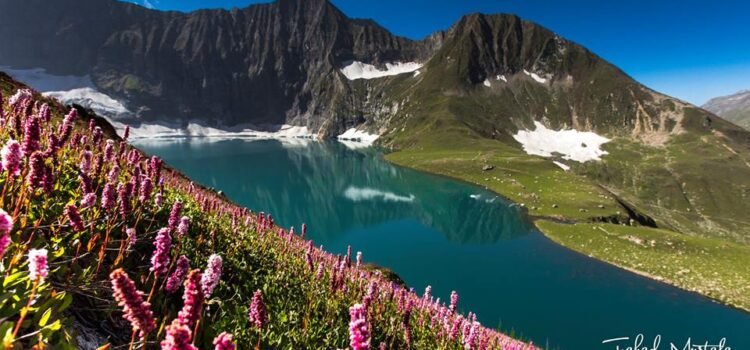 Patikka
Dhani Waterfall
Kutton Waterfall
Keran
Upper Neelum
Sharda
Arrang Kel
Taobat
Ratti Gali
Kel
For booking Call Now: 03455889945 or drop us an Email at [email protected]
Neelum Valley is a most beautiful place on earth. It is famous for its panoramic views, charming weather, beautiful landscapes, freshwater streams, and lush green mountains cover with forests and a hok for many animals.
Looking into the geographical details of this beauty piece, it covered an area of 3,621 km² with population of 191,251. Located approximately above 400 meters above sea level makes it an ideal place for tourists to visit. This place has dipped with some amazing beauty and attraction for tourists to explore. This valley is easily approachable from kaghan and Noori Top. Besides these many minor passes are also present.
What makes Neelum valley a must place to visit? The amazing highlighted spots, small villages, lakes and mountain passes are the reason for tourists to visit. This valley is surrounded by fascinating and snow-capped mountains. The tourists can enjoy trekking, hiking and paragliding from the adjusted mountains which comes with fast flowing Neelum river.
Neelum valley has a lot of beautiful attractive sights which can challenge an adventous tourist to plan a journey towards It.
Taobutt
Taobutt, a hidden gem of azad Kashmir is located at 49 kilometers from Kel. Probably the last hill station of the Neelum valley. It has incredible natural landscape and natural beauty but not explored yet. Being inhabited by simple and innocent people, the beauty of this village is enhanced by the hospitability of these local people.
Tourists can also visit adjusted areas of Taobutt, like Janawai, and Sardari. They are also extremely beautiful locations with heavy snow views at winter. Often there are no signs of path due to land sliding and flooded water streams. In summer it is a worth place for tourist to visit.
Arang Kel
Arang kel is a lush green village located with an altitude of 8,379 feet. It is difficult to reach there because of landslides and road blockage especially during winters. But anyone who want to see the heaven on earth, must visit this place. Its beautiful landscape gives an astounding look and provides a peaceful ambiance to visitors.
Ratti Gali Lake
Ratti Gali lake is located at an elevation of 12,130 feet and fed by the glaciers water that comes from the surrounding mountains. It takes approximate 3 hours to reach the lake from twin cities. On a way to Ratti Gali lake, tourists explore two beautiful lakes. The summer is the perfect season to enjoy the pleasant weather and astonishing serenity. Further, tourists can enjoy different activities like camping, fishing, cooking, hiking and trekking.
Chitta Katha Lake
Chitta Katha, a highest lake with 13,500 feet, is located at the Shounter valley. This valley is easily accessible from kel with a distance of 155 kilometers from Muzaffarabad. It remains frozen in most of the year and only accessible in 2-3 months of the summer season. A person can reach this lake by trekking from upper domail of Shounter valley.
The word chitta means white while Katha means stream. It is surrounded by the combination of many villages with huge glaciers, that's the reason of its milky white reflection.
Keran Valley
Keran village is another tourist resort located at 93 KMs (3 hours) drive from from Muzaffarabad. It has some of the picturesque scenery, lush green fields, fruits trees which attract the tourists from all over the world. Another attraction is the bridge that connects both Pakistan and Indian borders. The management of AJK Tourism Department is working to convert Keran valley into a hub of tourist resorts.
Sharda
Sharda is located at a distance of 136 KMs from Muzaffarabad and is lying between Karen and Kel. It is the most enchanting village of azad Kashmir. This place is more famous for its prominent institution known as Sharda University and a Hindu goddess Sharada Perth. Tourists can enjoy 3-4 feet snowfall in winters, Jet skiing, camping in riverside and much more.
Patikka
Patikka is at a drive of 17KM from Muzaffarabad. It is a first destination spot and gateway to Neelum valley. This area is popular for its fish hatchery and for a mini zoo. A rest house for tourist is being constructed there by AJK tourism department.
Kutton
Kutton is located 85 KMs from Muzaffarabad. This area is mostly covered with snowfall and there are beautiful waterfalls and streams. Tourists can enjoy fishing, trekking and hiking. The tourism department is working to smooth its unpaved road.
Neelum Valley peaks
Neelum valley has a dense and thick forest covered with an elevation of 4000-7500 feet. On either side, the elevation reaches up to 17000 feet.
Neelum Valley Lakes
Neelum valley has beautiful lakes where tourists can enjoy base camp and fishing. The Shounter has seven more lakes like chitta Katha, Lunda sar lake, Parrian sar, Baboon lake, Sar wali base camp lake and spoon lake.
FAQs
How is the weather of Neelum Valley?
The Neelum valley is accessible in all the twelve months. If you want to explore areas ahead of Neelum valley like Sharda, kel or Taobutt then the best time is to visit between April and October. The temperate of these areas can drop into negative in winter season. The only suitable time to enjoy pleasant weather, hiking or other activities is between July to September. It is recommended to bring warm clothes and other accessories that can save tourists from cold.
Hotels in Neelum Valley
There are many top and affordable Neelum valley hotels available for tourists. They have all the basic and general facilities; the tourists look for. The Neelum hotel, Paradise lodge, Keran, Keran resort, State continental Sharda, Sharda highland hotel and Neelum hotel kel are the some of the best options for tourists.
Roads to Neelum Valley
The road condition from Islamabad to Neelum valley is smooth. But in winter, the road onward to Keran is extremely bad and sometimes blocked during to heavy snowfalls.
Best time to Visit Neelum Valley
The best time to visit Neelum Valley is April to October. You will get a chance to enjoy pleasant and calm weather without any problem of land sliding or snow.
How to reach Neelum Valley
From Islamabad, there is distance of 234.9 km. it takes approximate 7 hours to reached there. Tourists can avail their own private vehicle or public transport. The Islamabad to Neelum valley bus service is highly recommended. To travel further from Neelum valley, one has to hire a jeep.
Is it Safe to visit Neelum Valley?
The road to Neelum valley is safe to reach during summers while in winter the road to Keran, Sharda, kel and Taobutt is dangerous and block during to land sliding and heavy snowfalls. People are very friendly and caring.
Attractions for Foreigners in Neelum Valley
Foreigner tourists can enjoy the beauty of lakes and rivers. The adjusted areas of Neelum valley are extreme beautiful with varieties of lush green meadows, pleasant weathers and hiking options.
Distances (Travel Time) to Neelum Valley
Islamabad to Muzaffarabad: 3h 30 min (136 km)
Muzaffarabad to Keran: 3h 30min (56.1 km)
Keran to Sharda: 2h (25.5 km)
Sharda to Kel: 1h (21.0 km)
Kel to Taobutt: 1h (40.5 km)
Tour Packages Neelum Valley
AJKTOURS offers variety of customized tailor-made tour packages meeting your expectations and needs. We do offer Hotels accommodation, fully guided tour, transportation and bed & breakfast. Neelum Valley Tour Packages –Customize and book tour packages in Neelum Valley and find best deals on Neelum Holidays Tour Packages.
Read more about Neelum valley ↓
Neelum is a valley of fountains, springs, waterfalls, flowering trees and plants. Geographically too, it is a hospitable valley. The Neelum Valley, 90 miles long bow-shaped with majestic pine, fir and deodar trees, lies north-south of Muzaffarabad (capital). This ninety-mile long kingdom of vegetation is ripped apart by the indigoblue Neelum river which flows serpentinely down hills to merge itself into the river Jhelum at Domail. Domail, Read more