Neelum Valley (وادیِ نیلم) is also knows as blue gem of Pakistan. Neelum Valley is one of the most visited areas among northern areas of Pakistan.Neelum is the district of Azad Kashmir situated almost 90km away from its Capital. Neelum is almost 180km away from Islamabad and it takes 7 hours of drive to reach there by road. There is no airport facility for tourists. Book your tour packages to Neelum Valley on discounted rates through AJKTOURS.
Route to Neelum Valley:
From Islamabad one will have to travel Muzaffarabad via Murree-Expressway and Kohala. Then Via Neelum Road, can reach to Kutton the first village of Neelum Valley.
Places to Visit in Neelum Valley
Neelum Valley is very rich when it comes to sight seeing. Waterfalls, River side accommodations, Lush Green areas, Snow covered peaks, Thick Jungles and Lakes are main attractions for tourists in Neelum Valley. Some of them are mentioned in detail below.
Patikka:

Patikka is almost 17km away from Muzaffarabad to Neelum Valley. It takes only 20 mins of drive from Muzaffarabad. Main attractions are Mini Zoo, Trout Fish Form and Morcopollo Hotel and Restaurant on river side. No proper hotel to stay is available there.
Dhani Waterfall:
Dhani Waterfall is one of the tallest waterfall in Neelum Valley. Almost 33km away (45 mins of drive) from Muzaffarabad. Tuck shop is also available for tourists over there. No accommodation to stay is available there.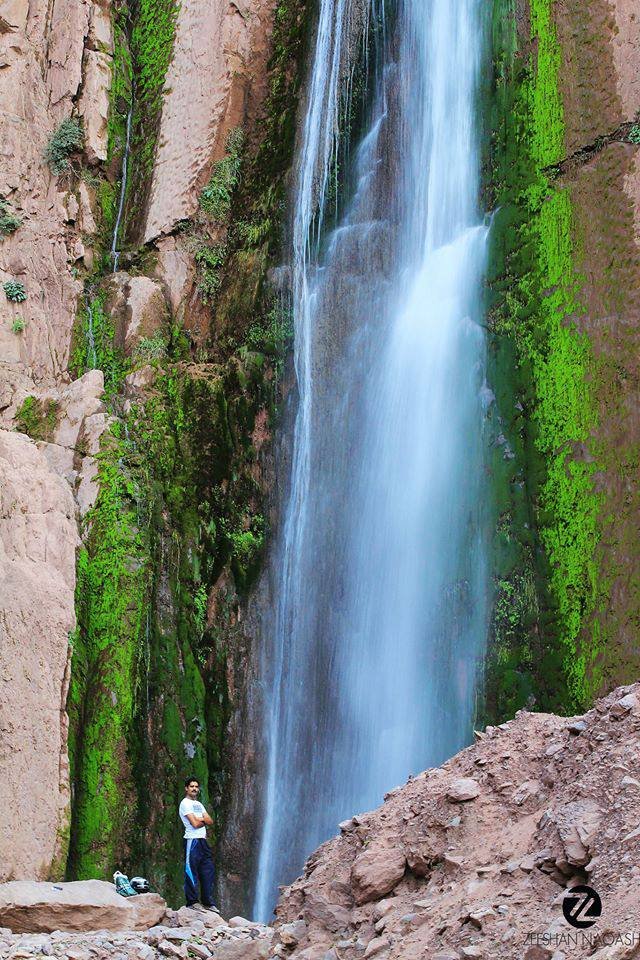 Neelum Jhelum Project:
Neelum Jhelum Dam is situated in Nousery , almost 40km (50 mins of drive) from Muzaffarabad. One can see the mega infrastructure of the DAM from road side. Hotel stay is not available there.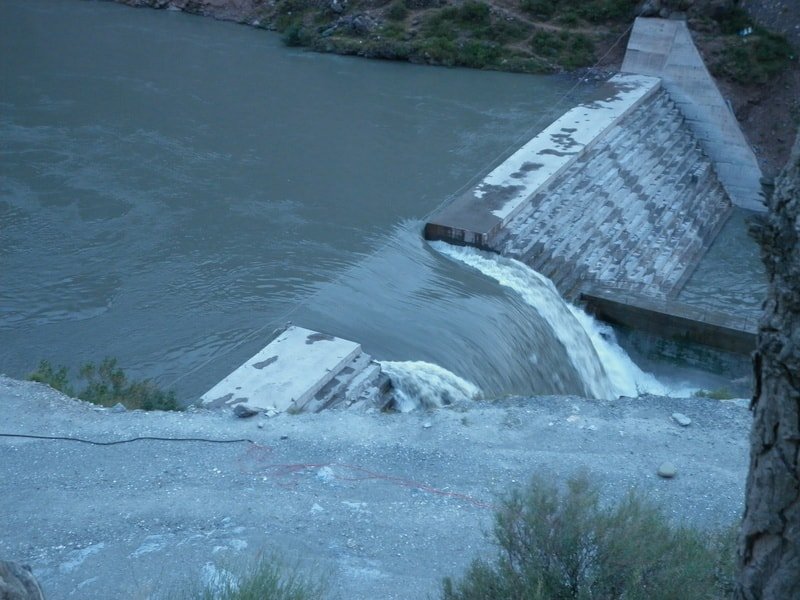 Chilliana:
Chillina cross point is almost 50km (1 hour of drive) from Muzaffarabad. One can see Indian Occupied Kashmir, Indian Army, Indian Flags, Check posts and local life of IOK villagers across the river from road side. This is the main and unique attraction of the area. Not hotels is available there.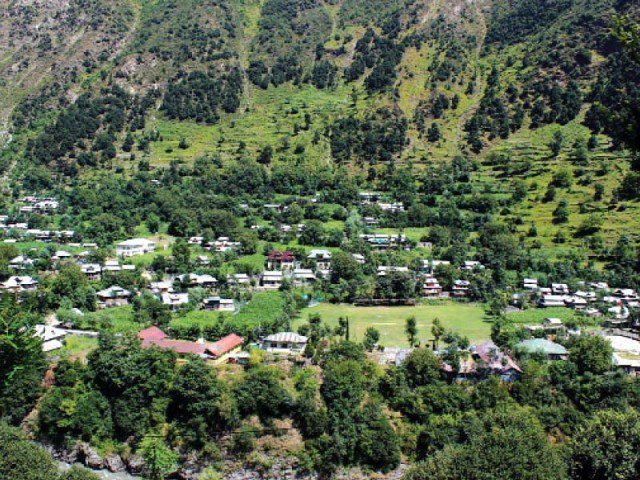 Kutton Waterfall:

Kutton waterfall also known as Kundan Shahi Waterfall is almost 85km (2.5 hours of drive) from Muzaffarabad. It is heaviest waterfall of the valley and local people call it Niagara Falls of Pakistan. To see it in its best blossom, one should visit in peak summer. Jagran Resort is the best accommodation/Hotel in Neelum Valley. However State Continental hotels is also good enough to stay.

Keran:

Keran is on a distance of 90km (3 hours of drive) from Muzaffarabad. One of the most rushy area of Neelum Valley. You can see IOK across the river. Mostly hotels offers river view rooms there, so tourists prefers to have first night stay at Keran during their trip to Neelum Valley. Best hotel in Keran is Pine Park Lodges and PTDC Resorts. There are more than 50 hotels available there.
Upper Neelum: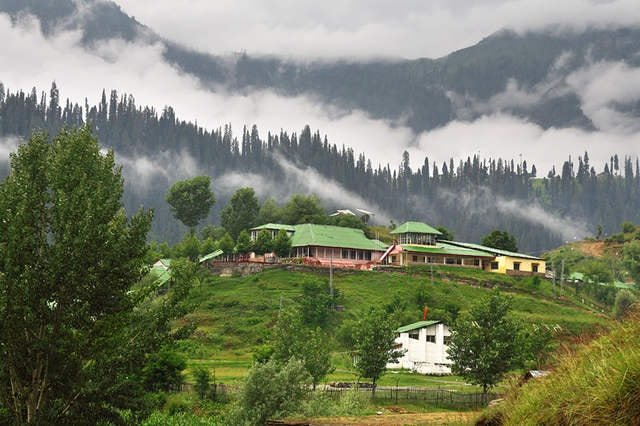 Upper Neelum is situated just 2km away (uphill) from Keran. People do hiking towards Upper Neelum from Keran just for their fun and excursion purpose. However you can take your car to Upper Neelum in just 10 mins of time. One can have bird's eye view of Keran Valley from Upper Neelum. Green Village Resort and PTDC/Tourism Department Huts are best available places to stay in Upper Neelum.
Dawarian:

Dawarian is almost 10km away from Keran, and from where you can get your jeep on rent towards Ratti Galli Lake. Some of the hotels are also available for the facilitation of tourists but are not in that much good condition.
Ratti Galli Lake:

Ratti Galli is 23km away from Dawarian and it takes 3 hours of Safari jeeps ride to reach there from Dawarian. Camps are available for night stay, but only in summer. Ratti Galli remains open from May to September.
Sharda: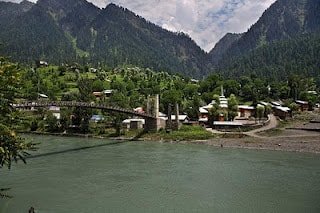 Sharda is 40km away from Keran (3 hours of drive). Night life of Sharda is famous as compared to all other destinations. One can enjoy boating and jet ski there. Surgan, Maidaan, Kishan Ghatti, Sharda Temple (Sharda University- Sharda Peth) are places to visit in Sharda.
There are so many hotels in Sharda, that every one can find hotel according to their budget. Best hotel to stay in Sharda is Neelum Star Hotel and Benazir Palace Hotel.
Kel:

Kel is 20km away from Sharda and it takes 1.5 hours through jeep there. It is considered as base camp to visit Taobat, Arrang Kel and Chitta Katha Lake. There are also many hotels for night stay but accommodation standard is very low, so one has to compromise when it comes to basic amenities. Oreintal View, Green Valley View and PTDC/Tourism Guest house are better options for night stay there.
Arrang Kel: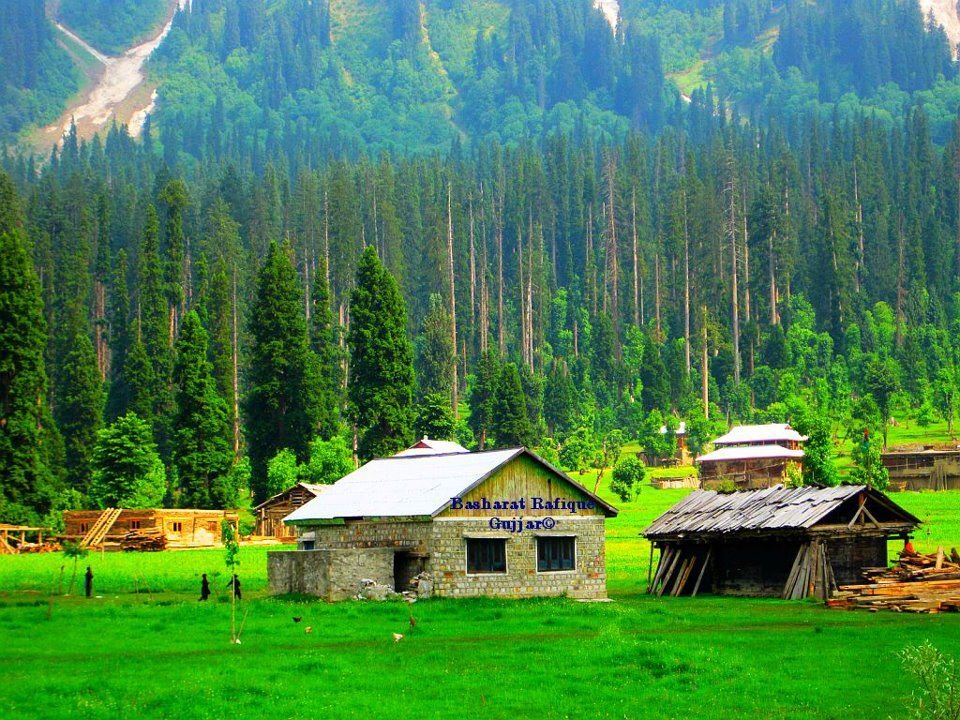 It takes 1.5 hours of hiking from Kel to Arrang Kel as there is no road towards the village.
The most fascinating spot of Neelum Valley. Tourists name is "Heaven on Earth". There is local Cable Car service is also avialable, but not reliable.
Though it reduces the travel (hiking) time to just 30 mins. Musk Deer Resort is better option to stay there.
Taobat: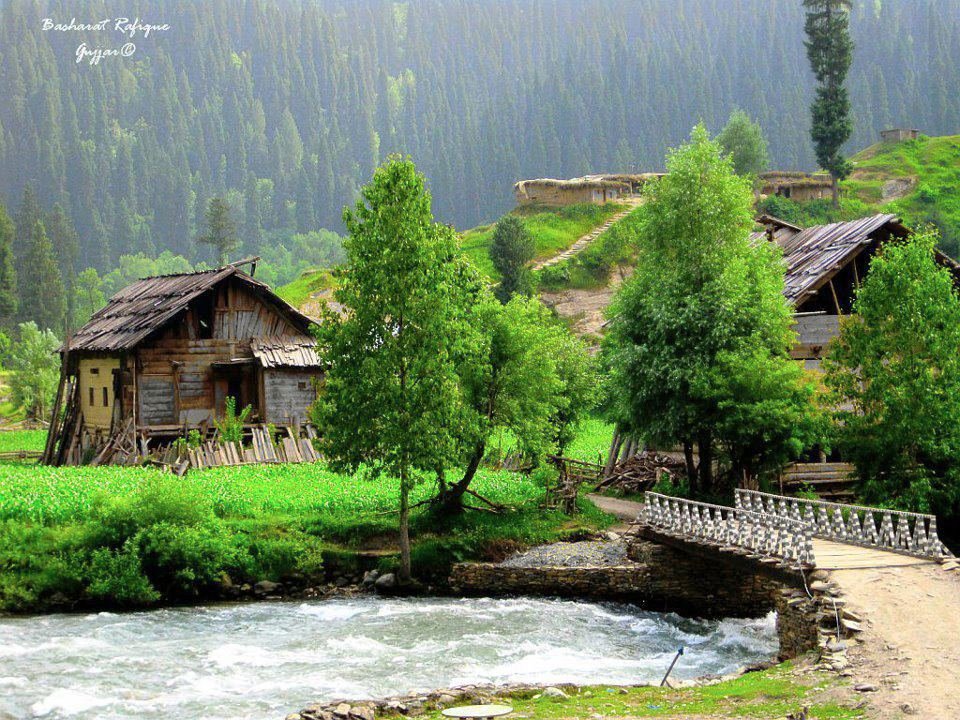 Taobat is the last village of Neelum Valley. It is 40km away from Kel and takes 3.5 hours on Jeep. Though you reach there after a very hectic and bumpy track, but it is worth taking all the tiredness and adventure.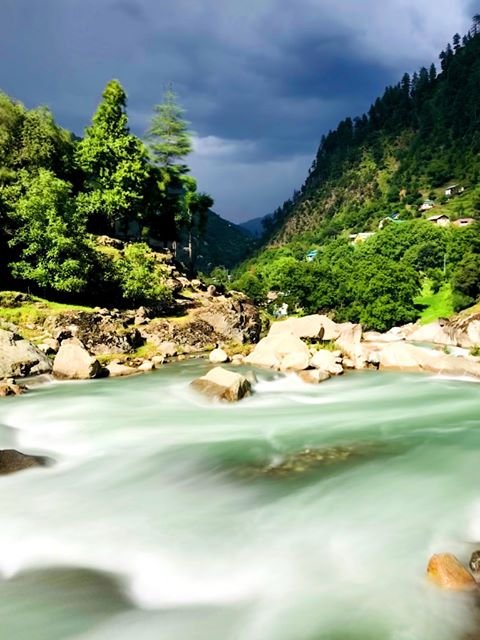 Its lush green meadows, thick woods and crystal clear water streams do a magical spell on visitors. There are couple of guest houses in Taobat, but one is recommended to stay back in Sharda or Kel.
Rent a Car in Neelum Valley:
You can park your own car in Keran or Sharda and hire a Jeep onwards.
Jeeps Fleet:
Sharda to Kel: Jeep Rent: 5000PKR
Sharda to Taobat: Jeep Rent: 9000PKR
Kel to Taobat: 8000PKR
Cable Car Rent: 100PKR
Places to visit in Neelum Valley:
All the places mentioned above are worth visiting specially Taobat, Arrang Kel, Sharda and Keran.
Places to Stay (Hotels) in Neelum Valley.
There are more than 200 hotels across Neelum Valley. You can book them through us on discounted rates and neutral reviews. Neelum Valley hotels are not that much good as compared to Naran and Kaghan.Neelum Valley hotels are enlisted here. In off seasons hotels are being booked on low prices almost in 3500 per night and in peak season average room rent is 5000.
Best time to visit Neelum Valley:
Neelum Valley remains open through out the year but most suitable time to visit Neelum Valley is in between April and October.
How to plan your tour to Neelum Valley:
You can book our Neelum Valley Tour Packages. We offer special discounts on tour packages to Neelum Valley from Karachi. One can plan a 3 Days tour, 4 Days, 5 Days, 6 Days or even 7 days tour to Neelum Valley.
Distance to Neelum Valley from Islamabad
Distance from Islamabad to Neelum Valley (Keran) is almost 210km (7 hours of drive).
We have written a comprehensive article on how to choose a hiking insoles here:
https://www.globosurfer.com/best-hiking-insoles
To Book Hotels, Rent a Car or Tour Package to Neelum Valley, we are just one Call away: 03455889945 or drop us an email at [email protected]
Facebook: https://www.facebook.com/NeelumValley.by.AJKtours/