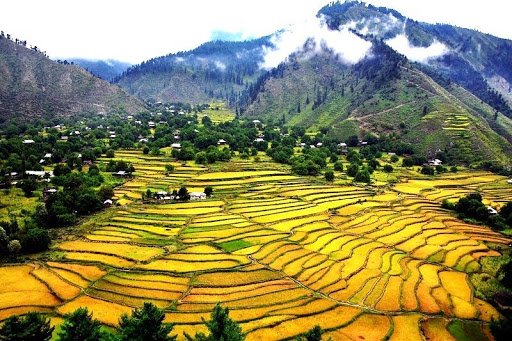 Jhelum and Leepa Valley
This is an ideal valley for both the domestic and' international tourists. The curling river Jhelum passes through from East to West between the high green mountains of this valley and joins the river Neelum at Domel near Muzaffarabad city. A 59 Km long metalled road runs along the river Jhelum from Muzaffarabad to Chokothi, which is located adjacent to line of control (Loc). Buses & wagons ply on this route regularly.
Gharhi Dopatta:
It is 24 kilometers from Muzaffarabad. The town surrounded by mountains is located on both sides of river Jhelum. Educational, medical, telephone, accommodation and shopping facilities are available here. AJK Government has established here an "Extension Services Management Academy (ESMA)", which provides training facilities of international level.
Chinari:
At a distance of 51 Kms from Muzaffarabad and surrounded by high hills, it is situated on the left bank of river Jhelum. All the basic facilities viz. Bazaar, hospital, education, post office, banks, telephone are available here.
Chakothi:
Chokothi, 8 Kms ahead of Chinari, is a border village. Only domestic tourists can visit this area.
Chikkar:
This beautiful summer station at a distance of 46 Kms from Muzaffarabad is situated on top of the mountain on the southern side of Muzaffarabad. Aroad branches off at Dhanni Baqallan, a place about 33 kilometers from Muzaffarabad and leads to Chikkar, which is at an elevation of 1828 meters. The outstanding features of this beautiful place are its healthy climate and picturesque surroundings. Standing over the hill, one can have a fascinating view of the sub- valleys.
Zilzaal Lake:
Due to the devastating earthquake of October 8th 2005, like other areas of AJK, the areas in Jhelum Valley also witnessed massive devastation. Four villages namely "Curli", "Bhat Shair", "Lodhiabad" and "Padder" located in between Chikkar and Bani Hafiz were reported to be completely destroyed when the mountains collided very badly and got converted into heaps of rubble burying about 711 people underneeth.
The collapsed mountain peaks and the rubble of the four villages blocked the natural flow of the water which resulted in the creation of a natural lake stretched over an area of about 3 kms. This newly born lake was named as "Zilzaal Lake" and now it has gained great deal of popularity among tourists.
Loon Bagla:
10 Kms from Chikkar, situated at an altitude of 2011 meters above sea level, it is another worth seeing hill station in the middle of dense green pine forests and is linked by a fair weather road. The ordinary requirements of life are available in the small bazaar.
Dungian:
It is located about 5 Kms ahead of Loon Bagla. This place is surrounded by thick silver Fir forests. Its high altitude of 2071 meters and beautiful landscape has a special attraction for tourists. An experimental station for the proliferation of medicinal Herbs has also been established at this place.
Danna:
Amidst Muzaffarabad to Kohala, a road bifurcates the highway and leads to Danna, crossing the labyrinthine roads. Dann is known for its healthy climate and alluring scenic beauty. A tourist rest house is available for accommodation. From here one can go to Dheerkot, a known hill station in District Bagh.
LEEPA VALLEY:
This is the most fascinating & loveliest valley in Azad Kashmir. A metalled road branches off for Leepa from Naily, 45 kilometers from Muzaffarabad, climbs over the ReshianGali 3200 meters high and then descends to 1677 meters on the other side into the Leepa Valley. It spellbounds everyone who visits this valley. The valley remains open for domestic tourists only from May to November. A few places of tourist interest in this valley are:
LEEPA:
Leepa is a small village about 60 kilometers from Naily and 38 kilometers from Reshian, at an altitude of 1921 meters. Its lush green rice fields in summer and typical wooden Kashmir! Houses present a wonderful view to the people visiting the area. Walnut, Apple, Cherry and honey of Leepa are very popular and in great demand.
DAOKHAN:
Dao – Khan is situated some 75 kilometers from Muzaffarabad An unpaved but well maintained road branches off from Reshiar to Dao- Khan (4 kilometers from Reshian), which is now we recognized due to its high altitude (2490 meters), calm I peaceful atmosphere, excellent scenic beauty and panoramil views. Accommodation facilities through Tourist Rest Housl and Forest Rest House are available. Owing to flow of visitor~ tourists in the summer season, AJK Tourism Dept. also provide tent service for accommodation.
CHANANIAN:
Chananian, 62 kilometers from Naily & 36 kilometers from Reshian, is situated opposite to Leepa, near the Line of Control (LOC), at an altitude of 2226 meters. Surrounded by thick pin forest and nullah Qazi Naag flowing near by it, Chananian is als a worth seeing place in Leepa Valley.
From Reshian onwards, one has to hire jeeps for journey t Leepa and other places.
For booking Call Now: 03455889945 or drop us an Email at [email protected]