Patikka
Dhani Waterfall
Kutton Waterfall
Keran
Upper Neelum
Sharda
Arrang Kel
Taobat
Ratti Gali
Kel
Neelum is a valley of fountains, springs, waterfalls, flowering trees and plants. Geographically too, it is a hospitable valley. The Neelum Valley, 90 miles long bow-shaped with majestic pine, fir and deodar trees, lies north-south of Muzaffarabad (capital). This ninety-mile long kingdom of vegetation is ripped apart by the indigoblue Neelum river which flows serpentinely down hills to merge itself into the river Jhelum at Domail. Domail, the confluence of two mighty rivers, presents highly fascinating scene of youthful embrace. This heart-warning spectacle is most soothing to the eye. The valley, starting from Muzaffarabad, the capital of Azad Kashmir, is about 150 miles long. It lies on both sides of the river Neelum. The geographical features enhance the natural beauty of the Valley. Its elevation, a mere 2,000 feet at the start, gradually rises till it attains a respectable height of 8,000 feet. On both sides there are high mountains and peaks. Nearly all the forest wealth of Azad Kashmir is to be found in this part of the State. There are two approaches to the valley. One from the Kaghan Valley which is linked with it at two points, the Nuri Nari Hali (Pass) and the Ratti Gali and many minor Passes. From Dawarian it takes two days for hiking or riding and night stay at Dharian at 12,000 feet. The second approach is from Muzaffarabad. It is a distance of 55 miles which is jeepable in fair weather. The Neelum meets the Jhelum river at Domali (meeting of the two) on the outskirts of Muzaffarabad city. From Paticka forest one reaches Nosari, 24 miles ahead of Muzaffarabad. Next come Chaliana (height 3,200 feet), Qazi Nag, Barian, Salkhela, Kundal Shahi, Athmaqam on this road. On a number of places, the local population has built rope crossings on the river. It is a very dangerous device and the very thought of crossing these points is horrible but thrilling. Tao Butt is an example of vegetational generosity of the liberal nature. The spot is donned with all delicacies and niceties. Nature flirts here with fantastic environment. The forest wealth abounds in the Neelum Valley. Deodar, pine, fir, wild walnut, strawberry and hosts of other high statured trees and other types of wild growth and herbs are the treasure of the valley. Besides being invaluable in economic terms, the variety of natural growth offers a captivating scenery. Shunder Hill tops are covered with green forests and the fields are lush green with crops.
Pattheka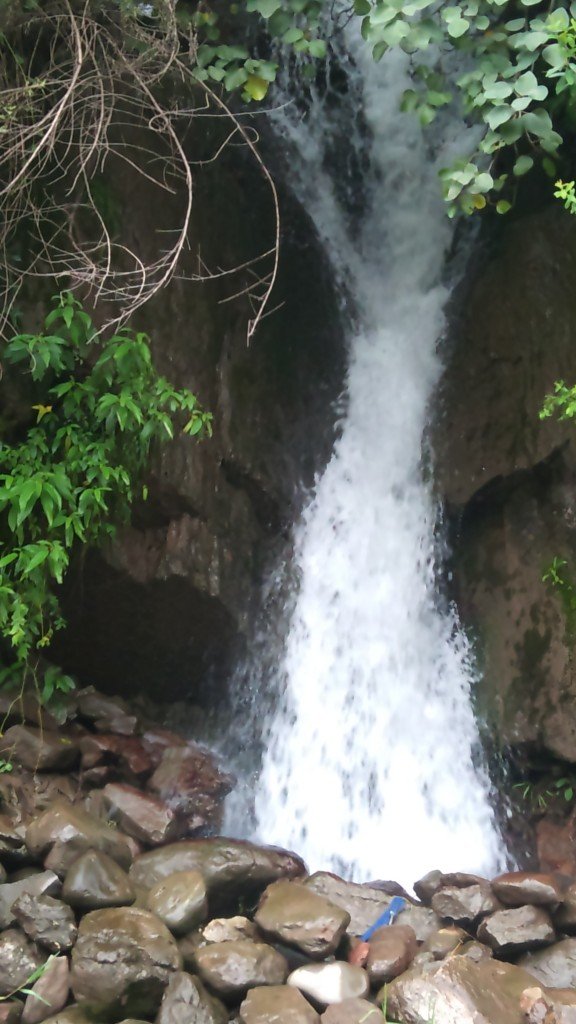 The valley is accessible by an all weather road metalled up to Kundal Shahi and well maintained up to Kel. At the gateway to the Valley lies a sprawling town of Pattheka with a dependable commercial centre. For a tourist, Pattheka can be the first journey break. This town has a modest bazaar with day-to-day activity. All essential items are available in the bazaar which feeds a fairly large number of villages behind it. On its back runs the forth-emitting river Neelum. The village and bazaar are connected by a suspension bridge crossable by jeep alone. This old bridge is being replaced with an RCC one enabling it to afford heavy traffic. The running streams, water channels and water falls across the Pattheka village present another heart winning scene. It is fully electrified. A few years back, the Federal Minister of Power and Water, Government of Pakistan had a hydel station built in this village over a perennial nullah which is in fact a mini river of Pattheka. The quality of life here is full of emotions despite its simplicity. It is perhaps due to verdure. Financially, it is an affluent town. Majority of the village folk is engaged in profitable business abroad especially in the Middle East countries. A number of scheduled banks of Pakistan are operating in the village on the strength of remittances from abroad. But despite fattening coffers, the town has no industrial activity. The ratting of machinery is unknown to the town. The serene atmosphere shrouded into lush greenery and milky-white waterfalls and water curses and their rhythmic flow totally absorbs the visitors. Added to the general plant fragrance is the sweet smell of menthol plants along the banks of the nullah, it cuts its way across the crop-fields in such wavy manner that it looks as a white ribbons over green head of damsel Nature. Bhateeka is linked by ancillary roads with other surrounding areas uphill and downhill. Kundal Shahi Jagran Valley: (Rest House available) At a distance of 74 Km. from Muzaffarabad one can reach Kundal Shahi. From this place a visit can be planned to the loveliest part of the Neelum Valley, commonly known as Jagran Valley.

Nestled in the lower part of Neelum valley, the picturesque "Jagran" is its inseparable part. Jagran Nullah (stream) is indispensable and plays pivotal role in the formation of its landscape beauty and charm which reveals the richness of the area. On the side lane of the impressive Tourists Resort the ever flowing greenish and surf gushing waters of Jagran Nullah add to its peculiar character. jagran Nullah, rushing downwards all along the tall grooves of trees is almost small river. Surrounded by scintillating beauty under the shades of the majestic snow-clad mountains the river is freezing cold. The snowmelt of these sky heights named "Jagran Nullah" is also know for rout fishing attracting angles all over the seasons. In Jagran places like kutton, Thunian, Ghansee and Pattlian Sar are worth-seeing and inviting everyone to visit and enjoy. Jagran is ideal for mountaineers and takers too. Here the mountains are ranging from 4000 feet to 1400 feet above sea level. The ever green forests are stretched in the far flung lush green plateaus with abundance of wildlife. Gradual and fathering of uphill distance is encountered with the pleasant and soothing environ which never fades into memory.
It is the entrance of Jagran. Here Jagran Nullah converges into Neelum River. It is situated at a distance of 74 Kilometers from Muzaffarabad and about 5 kilometers from Authmuqam. In Authmuqam and Kundal Shahi almost all basic necessities are available in the local market.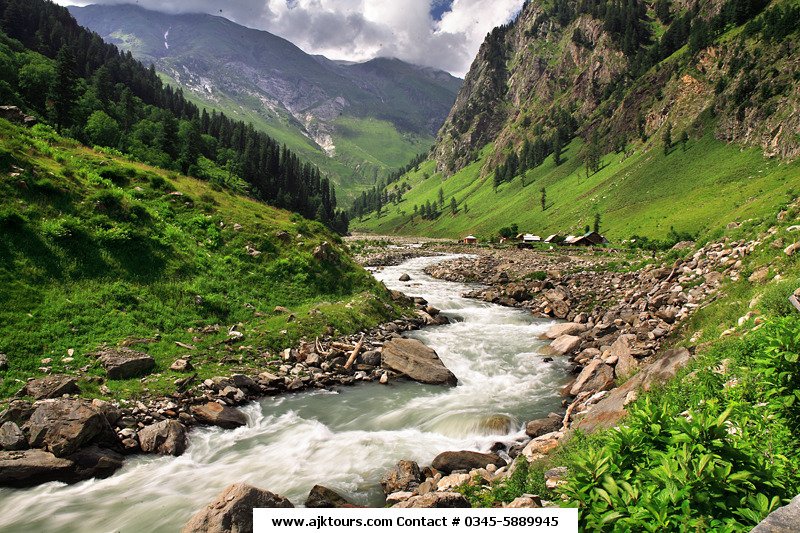 Uphill road from Kundal Shahi leads to Kuttonat a distance of 6 kilometers. The picturesque Kutton and Jagran is best to visit during April to October. Here the Greater Hydle Power is also an additional attraction for the tourists. The famous Nullah Jagran passes through this valley. At kutton about 8 kilometers from Kundal Shahi a hatchery for Trout fish is established by the fisheries department. Tourism Department has provided accommodation facilities for the visitors here.
Not more than 3 kilometers from Kundal Shahi across the river Neelum one can enjoy the lovely place Salkhala. A Trout hatchery has been established by the Azad Kashmir Fisheries Department. A reasonable accommodation facility is available here.
10 Kilometers from Kundal Shahi is the Sub-Divisional Head-quarter of the area. The bazaar consists of over a dozen shops with a post office and telephone call office. This place is suitable for the people interested in calm and quit atmosphere.
Neelum Another 9 Km journey ahead of Athmaqam takes you to Neelum. It is situated on the right bank of river Neelum opposite to the Keran village (Indian occupied Kashmir). Neelum having an altitude of 1524 meters above sea level is very popular among tourists. (Rest House)
So far is the half of the Neelum Valley and after it are the more enchanting spots full of exuberance and life. Keran is another beauty spot on the river side with a neat and clean wooden flooring rest house. Its lawns slope down towards the western bank of the river. Commodities are transported to the bazaar from Athmaqam by trucks. The physical feature of Keran resort resembles a broad forehead of a person with thick hair on the head. Stay is more comfortable here.
Dowarian Dowarian at a distance of 13 Km from Neelum at an altitude of 1615 meters is surrounded by mountains full of conifer trees. Over here a mule track up to Rattigali pass (about 30 Km) towards west, connects the Neelum and Kaghan Valley.
(Rest House available) The most picturesque place in Neelum Valley is " Sharda" it is located at a distance of 136 Km from Muzaffarabad and 30 Km from Dowarian. It is a breath taking spot. This place from the point of view of tourists is so attractive and captivating that they get their money's worth when they spend a few days here in their sojourn amidst nature. In Sharda one also finds ruins of an old place of learning. The presence of these ruins (known as Sharda University) lends Sharda is a historical background providing special attraction for the people interested in archaeology and history.
(Pronounced as Kail): (Rest House available) 19 kilometers journey from Sharda, upstream takes one to Kel. It is a small valley at the height of 2097 meters. This is another picturesque place in the Neelum Valley . The Shounter Nullah joins river Neelum at this place and leads to Gilgit Agency over the Shounter Pass (4,420 meter). Kel is also a base camp of mountaineering activities up to " Sarawaal peak" 6326 meters above sea level and "Sarawaali Glacier" which are said to be the highest peak and biggest glacier of A.Kashmir. Buses ply daily on this route. It is advisable to hire a jeep from Athmaqam for a trip in to the Valley. Horses and ponies can also be hired locally for travel to the interior of the Neelum Valley. Banks, College, Hospital, Bazaar, PCO and a Tourist Motel are available here.
(Rest House available) The border village about 38 km ahead of Kel, is a fascination yet unexplored. Janawai, and Sardari are the most beautiful places around here. A tourist rest house had been constructed a Halmat to provide accommodation facilities to the visitors.
For booking Call Now: 03455889945 or drop us an Email at [email protected]