Kel: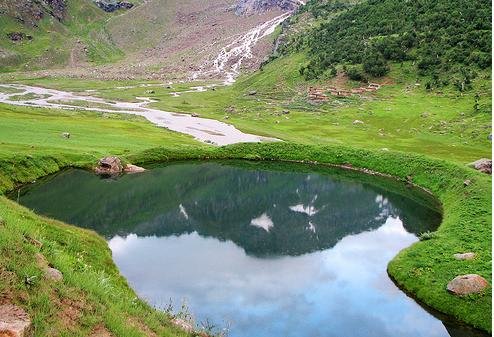 19 kilometers journey from Sharda, upstream takes one to Kel. It is a small valley at the height of 2097 meters. This is another picturesque place in the Neelum Valley. The Shounter Nullah joins river Neelum at this place and leads to Gilgit Agency over the Shounter Pass (4,420 meter). Kel is also a base camp of mountaineering activities up to "Sarawaali Peak" 6326 meters above sea level and "Sarawaali Glacier" (about 25kms long) which are said to be the highest peak and biggest glacier of Azad Kashmir.
Buses ply daily on this route. It is advisable to hire a jeep from Athmaqam for a trip in to the Valley. Horses and ponies can also be hired locally for travel to the interior of the Neelum Valley. Banks, College, Hospital, Bazar, PCO and a Tourist Motel are available here.
The village about 38 km ahead of Kel, is a fascination yet unexplored. Halmat, Tao Butt, Janawai, and Sardari are the most beautiful places around here. A tourist rest house has been constructed at Halmat to provide accommodation facilities to the visitors.
(Note): Some of the tourist places of Neelum Valley are situated in the range of Line of Control (LoC), therefore, sometimes it becomes difficult to visit these areas. So before visiting the valley, the visitors are required to get permission from concerned department.
For booking Call Now: 03455889945 or drop us an Email at [email protected]