Lower Neelum (Keran):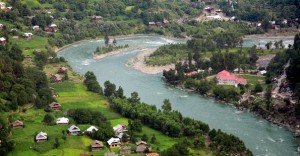 At a distance of about 9Kms from Athmaqam, Neelum (Karen) is situated on the Right Bank of Neelum River at about 1524 meters above sea level. It has fascinating scenery. A small bazaar and a tourist rest house situated on the bank of meandering river Neelum across which one can have a glance at the Indian held Kashmir.
Keran from Athmuqam: 09Km
Keran from Kundal Shahi: 17Km
Keran from Dhani Waterfall: 70Km
Keran From Muzaffarabad: 100Km
Altitude: 1549M
Upper Neelum (Neelum Village):

Upper Neelum (Neelum Village) is located at a distance of about two & a half kms from Keran. This panoramic lush green village, profound in wild fruit and wildlife, attracts the tourists from every nook & corner of the country. Another remarkable feature of this spot is that one can view the entire area of occupied Kashmir from here.Owing to its tourist attraction AJK Tourism Department has launched a development project to convert both the Upper & Lower Neelum in to a Tourist Resort.
Accommodation is available there in Keran. There are many hotels, rest houses and lodges in Keran. To reserve the rest house please call on the numbers given below or just send an email.
For booking Call Now: 03455889945 or drop us an Email at [email protected]