Pakistan is honored with the common magnificence; the wonderful northern regions of Pakistan are the spots to which everybody could without much of stretch experience passionate feelings for; known for the beguiling glades, immaculate scene, snow-secured crests, and straightforward blue water making commotion, lavish green valleys and numerous charming views. Neelum Valley is a valley arranged between Muzaffarabad, AJK toward the south, LOC toward the east, Naran toward the west and Minimarg, Gilgit Baltistan toward the north.
It is 144 km long, beginning from Athmuqam and completion at Tao Butt. It has "Shounter Valley" as a sub-valley. There are wonderful waterfalls, lakes and mountains, with an astonishing mix. Real places in the valley are Kutton, Jagran, Athmuqam, Kundal Shahi, Keran, Sharda, Kel, Arrang Kel and Tao Butt. Neelum Valley tour packages by AJK Tours expressing the best places to visit in Neelum Valley. Be that as it may, this is an entire vacationer or travel manage for going by this lovely valley.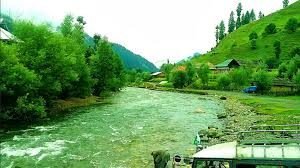 The street from Muzaffarabad till Keran is great, residual street is unpleasant with little fixes of covered street. You can go till Sharda effectively on your auto. On the off chance that you are a decent driver, you will reach till Kel, however that is not prescribed. You should need to employ administrations of a 4×4 jeep, which are exceptionally regular in the valley. For Arrang Kel, you'll either climb or utilize the lift. Amid the season I-e from April to September, normally lines are made for the lift. In the wake of leaving Lift, you've to climb for roughly 30 minutes. Finish climbing towards the Arrang Kel typically takes 2-3 hours. The street till Tao butt is harsh while excellent. There are government rest houses, cabins and lodgings in each significant town of the valley. Government Rest houses are either overseen by Ministry of Tourism or Forest Department of AJK Government. While there are various private inns and campgrounds all through the valley. Here at this page you will discover the reliable Neelum Valley tour packages by AJK Tours.