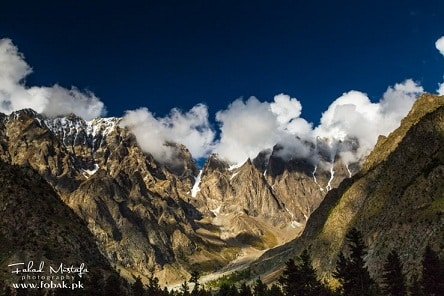 Every year, more than 907,000 people visit Pakistan and stun themselves with the breathtaking tourist spots of Pakistan. When it comes to tourist spots, here are top 15 tourist spots, most visited per year.
We arranged a survey on facebook regarding Best Place to visit in Pakistan specially in northern areas of Pakistan. In this survey more than 350 voters took part from different parts of Pakistan. We gave our voters many options including Kashmir, Hunza, Naran, Skardu, Chitral, Murree, Nathiagali, Banjosa Lake, Babusir Top, Swat, Kalam, Deosai, Chilas and K2 Base Camp. Results were as we were expecting. Hunza and Kashmir got 70% of total votes. Hunza got 110 votes where as Kashmir was 2nd with 61 votes.
Result was as given below.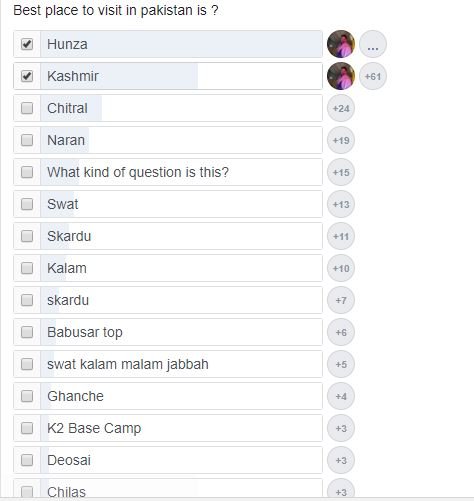 Some of the places are ideal for honeymooners like Hunza and Neelum Valley. And Some of them are famous among family tours like Banjosa, Swat and Nathiagali. Voting details is given below.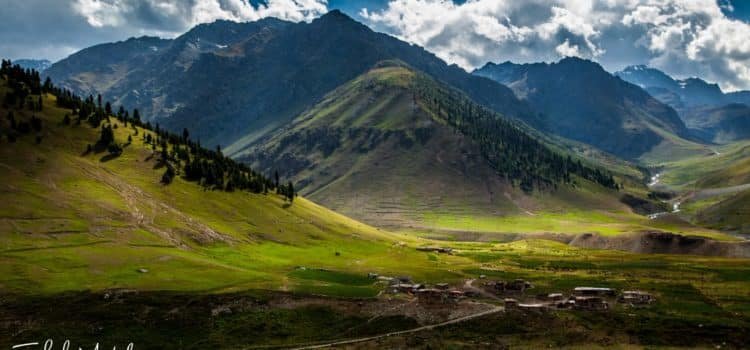 Patikka
Patikka is located 17km away from Muzaffarabad. A minizoo is there, an attraction for kids, located on a beautiful location. Zoo has some pheasants, peacocks and precious birds. Another attraction in Patikka is Trout Fish Form.
Dhani Waterfall
A very beautful waterfall named Dhani Waterfall located on 33km away from Muzaffarabad. It takes 40 mins of drive from Muzaffarabad.
Neelum Jhelum Hydro Project
Located on 40km from Muzaffarabad, an hour of drive from Muzaffarabad
Kutton
Located on 85km from Muzaffarabad and on drive of 2.5 hours from Muzaffarabad
Keran
Located on 88km from Muzaffarabad, almost on drive of 3 hours from Muzaffarabad
Upper Neelum (Upper Keran)
Located on 10 mins of drive from Keran, almost 2km away from Keran.
Ratti Galli A beautiful lake is located on drive of 3 hours from Dawarian, you can hire a jeep to the lake from Keran or Dawarian.
Sharda
Sharda is a village located on drive of 2.5 hours from Keran. Most scenic spots in Sharda are Sharda Temple, Kishan Ghatti, Maidaan and Surgan. Jet Ski is also available in Sharda for tourists attraction .
Kel
Kel is on drive of 1.5 hours from Sharda, 20km away, famous for pleasent weather. Different hotels are also available in Kel.
Arrang Kel
Arrang Kel is one of the most scenic and most frequently visited spot among tourists. It takes 30 mins of hiking after taking a local lift from Kel. Some local houses are being operated as guests houses in Arrang Kel as well.

Halmat and Taobat
Taobat is most most lush green spot of the Neelum Valley. It takes 3 hours of drive from Kel. No upto standard accommodation is available in Taobat. While traveling to Taobat to Kel you also visit beautiful scenic areas like Halmat, Phulawai, Sardari and Gurez Valley.
Book Tour Packages to Neelum Valley On cheap rates through AJKTOURS.com

For booking call now 03455889945 or drop us an email at [email protected]