8 days tour to Gilgit BaltistanPlaces that we will be visiting Khaplu, Skardu, Mansehra ,Shangrila Lake, Kachrua Lake, Buddha Rock, Shigar(Desert & Fort), Manthoka(Water Fall) , Sadpara Lake ,Hunza | Karimabad | Baltit Fort | Altit Fort | Attabad Lake | Gulmit | Passu | Sust | Khunjrab .
Hunza/Skardu Tour Packages:
AJKTOURS offers variety of tour packages to Gilgit Baltistan from Karachi, Lahore, Islamabad, Rawalpindi Pakistan. GB is very popular in Pakistan Tour Packages when it comes to picturesque beauty.
Cost/ Price:
Cost from Islamabad: 20000PKR
Cost from Lahore: 22,000PKR
COST FROM KARACHI: 34,000PKR
For couples: 4000Rs-for both additional (double sharing room for each night)
DEPARTURE/ARRIVAL: Itinerary
Lahore: Bilal Daewoo Terminal
Islamabad: | Daewoo Terminal
Karachi: Daewoo Terminal or Cantt StationFrom Karachi: Daewoo bus service/Taizgam train (AC)
Departure 2 days before
Night stay in IslamabadDay 01:
Gathering at 02:30AM
Departure at 03:00AM
Breakfast Break at Mansehra
Lunch Break at Besham for 1 hour: 02:00PM
Arrival at Chilas: 08:00PM
Dinner at 09:00PM
Panaromic or shangrilla HotelDay 02:
Departure for Skardu
Stop at Junction Point (Junction of the World 3 highest mountain ranges)
Lunch at Astak
Arrival at destination Shangrila Lake 3:00 PM
Visit of Uper Kachura Lake
Arrival at hotel Mashabrum
Arrival drinks
Dinner at 8.30 pm
Night stay at Hotel Mashabrum
Day 03
After breakfast,
Visit to Budha Rock & sadpara lake
Departure for Shigar
Break at Shigar Desert
Visit of Shigar Fort and Cherry Gardens
Camping at Hotel Mashabrum including bonfire and Bar.B.QDay 04:
Breakfast call at 7.00 AM
Explore Skardu city
Visit at Manthoka water fall
Move back to Hotel Mashabrum SkarduDay 5:
Departure for Hunza Valley
Visit of Altit Fort , we will visit Eagle nest(from this point we can see six 7000+ meter peaks) in the evening
Night stay at HunzaDay 06:
Breakfast call at 07:00AM
Departure for Khujurab pass
Crossing of attabad lake on Boat
Stop at Passu
Stop at Sust
Stop at Khujurab National Park
Stop at Khujurab pass
Back to Hunza in the Night
DAY 7: :
Breakfast call at 07:00AM
Departure at sharp 08:00AM
We will visit Baltit fort then visit Karimabad Market
Stop at Rakaposhi View point
Night stay at ChilasDay 08:
Departure from Chilas
Back to Islamabad & LahoreSERVICES INCLUDED:
Food (Breakfast) only complementary Bar b q will be served on day 3 day by hotel mashabrum
Jeep Expense (4?4 SUV)
Camps
Hotel Expense (Three persons in one room)
Sleeping bags
Mattresses
Transport Ac Saloon coasters
Guide Services
First Aid Kit
Toll Taxes
SERVICES NOT INCLUDED:
Entry tickets
Lunch, Dinner
Porters (for carrying personal equipment of participant)
Extra expenses due to landslides\road blocks
Tea, Mineral water and Cold drinks expense
Extra expenses due to the acts of nature and political reasons etc.
Any item not mentioned above
Medication, evacuation and rescue etc. in emergencies
Personal insurances of clients
Laundry, beverages & phone calls or other expenses of personal nature
| DISCOUNT POLICY |
50% Discount for children of age between 4-8 (folding seats) *one category would apply at a time
IMPORTANT DETAILS:
First come first serve basis
30% ADVANCE PAYMENT FOR CONFIRMATION OF YOUR BOOKING.
We will not accept on spot payment of the tour.
Littering is strictly prohibited.
Office Details:
Office #14, 3rd Floor, Panorama Plaza, G11 Markaz, Islamabad, Pakistan-44000
0345-5889948
0345-5889945
[email protected]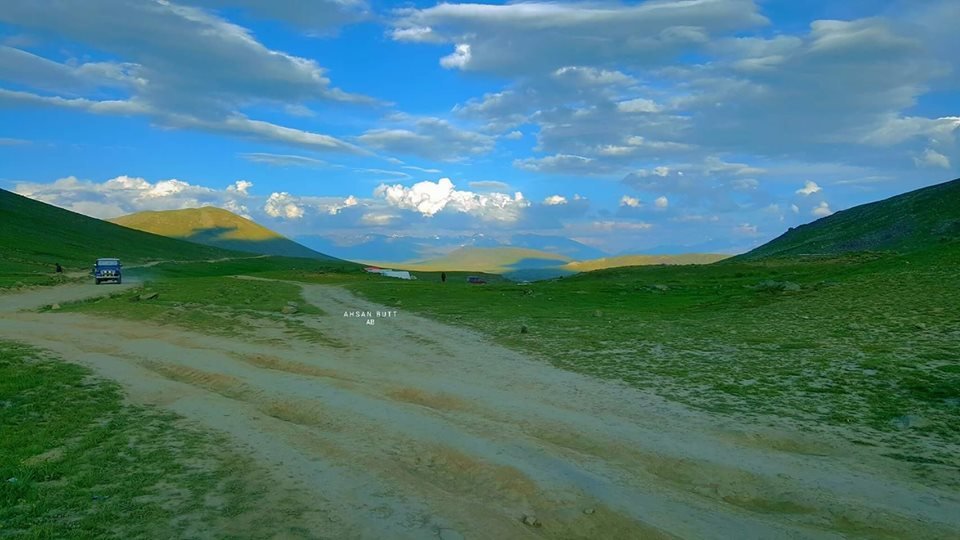 Day 1
Isb-chillas via babusar top or via Besham-Dasu
Night stay in Chillas
Day 2
Chillas to skardu
Night stay in Skardu.
Day 3
Shigar Fort
Cold Desert
Manthokha Fall
Khaplu Fort
CHAQCHAN Mosque in Khaplu
Night stay in Skardu
Day 4
Deosai planes
Satpara lake
Day 5
Shangrila Resort
Upper Kachura Lake
Soak Nala
Katpanna Lake night view.
Night stay in Skardu
Day 6
Departure for Chillas
Night stay in Chillas
Day 7
Chillas to Islamabad via babusar top
Cost: PKR80,000
Valid for: 3 Persons
Inclusions: Transport (Gli), Sight seeing, fuel, Accommodation (1 Standard Room), Toll Taxes, Driver Cum Guide
Exclusions: Drivers meal, your meal
City From: Islamabad
City To: Islamabad
AJKTOURS offers many tour packages keeping in mind budget of the valued clients with maximum visiting points. In 13 days Tour Package we offer visit to Naran, Shogran, Hunza til Khunjerab and Skardu including Deosai & Sheosir Lake. In this two weeks tour package, we make you to visit every popular and must visit spot in Hunza, Naran & Skardu. AJKTOURS always try to offer comfortable & luxurious tour but in low price. Hunza is almost 570km away from Islamabad and it takes almost 17 hours of direct drive, so to reduce traveling time and make your tour memorable we added mid way spots like shogran, Naran, Babusir Top, Gilgit to make it a perfect & hassle free tour to a destination like Hunza and Skardu. Best time to visit Hunza is in between April and October.  During your visit we offer better hotels with excellent reviews , local and expert driver cum guide and best sight seeing options.
This tour packages is very popular among Thai travelers. Mostly tourists from Thailand book this tour package to visit Pakistan.
Please find detailed tour itinerary below. Hotels will be shared with you after your TOUR CATEGORY selection.
13 Days package (Pick and drop from Islamabad to Islamabad) 2 pax
Day
Itinerary
Night Stay
Spots
1
Islamabad to Naran
Naran
Balakot, Naran
2
Basham to Hunza
Hunza (Camping at DuIkar)
Kareemabad
3
Local Sight seeing
Hunza (Camping at DuIkar)
Altit Fort, Baltit Fort,  Eagle's Nest,
4
Local Sight seeing
Sost
Attabad Lake, Sost, Khunjerab
5
Sost to Gilgit
Gillgit
Local Sight seeing
6
Gilgit to Skardu
Skardu
Kachura Lake
7
Visit Local Sight seeing
Skardu
Shigar, Khaplu
8
Deosai Visit
Deosai
Deosai
9
Deosai to Skardu
Skardu
Skardu
10
Skardu to Naran
Naran
Naran, Lulusir Lake
11
Naran to Lalazar
Naran
Lalazar
12
Naran to Shogran
Shogran
Siri Paya
13
Drop to Islamabad Airport
Total Cost : —– including transport  and accommodation
Trip Duration: 13 Days
Total night: 12 nights
No. of persons allowed: Maximum upto 3
Cost: 130,000
OFF Seasonal Rates (Valid Between 15-September to 15 April)
Standard Tour Package:130,000
Deluxe Tour Package: 160,000
Executive Tour Package: 230,000
Peak Seasonal Rates (Valid Between 15-April to 15 September)
Standard Tour Package:150,000
Deluxe Tour Package: 190,000
Executive Tour Package: 330,000
Places to be covered in this tour: