Skardu is located at a distance of 291 Km from Islamabad, and it is famous for having the world Highest and Pakistan Highest K2 mountain. Skardu is famous all over the world for climbing, mountaineering and hiking. Skardu is surrounded by Karakorum, Himalaya and Hindu Kush mountain ranges. Skardu has enriched culture and versatile traditions. Having landscape and scenic views and their best hospitality is the reason people are attracted and travel far away to enjoy the beauty of this region.
There are some of the best places for tours in Pakistan and Skardu is one of them. If you're looking for some northern areas destination, then grab your travel bag and start your journey towards Skardu. It is a place with real natural beauty.
Read Also: Places to visit in Skardu & Hunza
Shangrilla Lake
Shangrilla lake is the best destination spot in Skardu with an elevation of 2500 meters. This place is also known as "the Roof of the World" as it is located at some of the heightened peaks. After the Shangrilla resort, it became more famous, and thick alpine trees are also enhancing its beauty.
Tourists will never regret visiting this beautiful lake with manicured gardens filled with apples, cherries, and pears trees. Your vacations at this scenic view location will you a memorable experience.
Shigar Valley
Shigar valley lies in the beautiful mountainous views of the Skardu. The valley opens the routes to the highest mountains of Karakorum. It is located at 170km from Skardu. Shigar Fort is the awarded world heritage site by UNESCO. The valley offers a wide range of beautiful things for tourists like hiking, trekking, and mountaineering. Shigar valley is highly inaccessible in the winter season due to heavy snowfall. Make sure to plan your trip well before coming to this area.
Khaplu Valley
Khaplu valley, having an altitude of 2699m and is located at a distance of 103Km from Skardu and further takes two more hours to reach by Jeep. This area has its importance in terms of the trade route. Being famous for some historical sites like Chapleau Palace and Chaqchan Mosque (Chaqchan mosque is also the oldest mosque in the whole Gilgit-Baltistan). Tourists can enjoy beautiful landscapes, blue water, and waterfalls.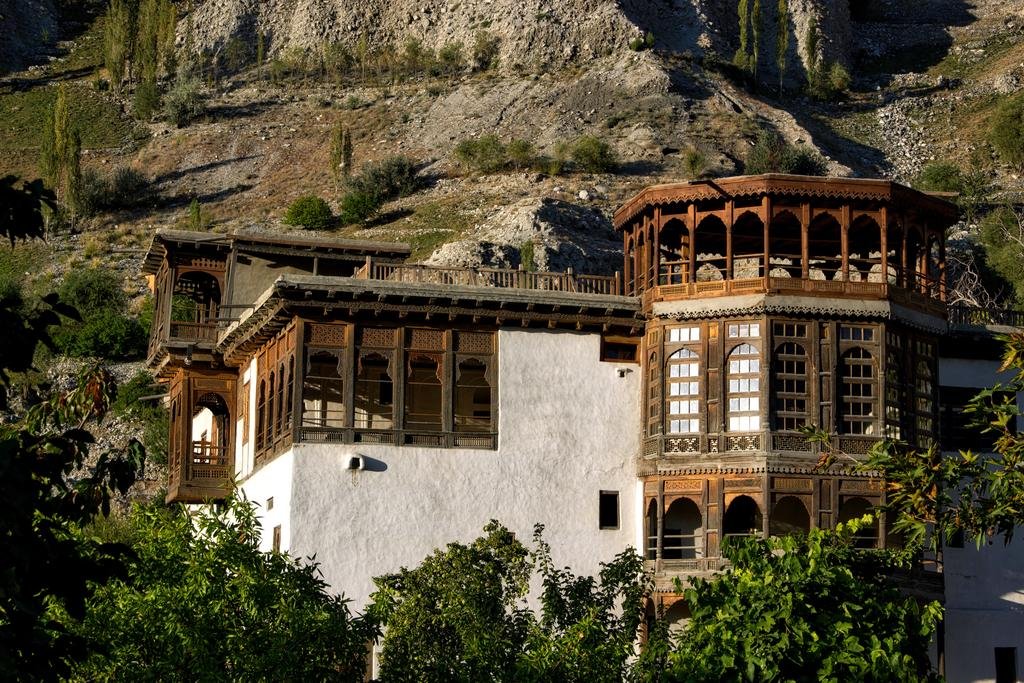 Basho Valley
Basho valley is located at 20km from Skardu. It takes approximately 2 hours to reach there on Jeep. Why should a tourist visit this valley? Alpine trees surround this valley, have pastures, waterfalls, and best for base camping. This place is excellent for the visitors having an interest in trekking and climbing.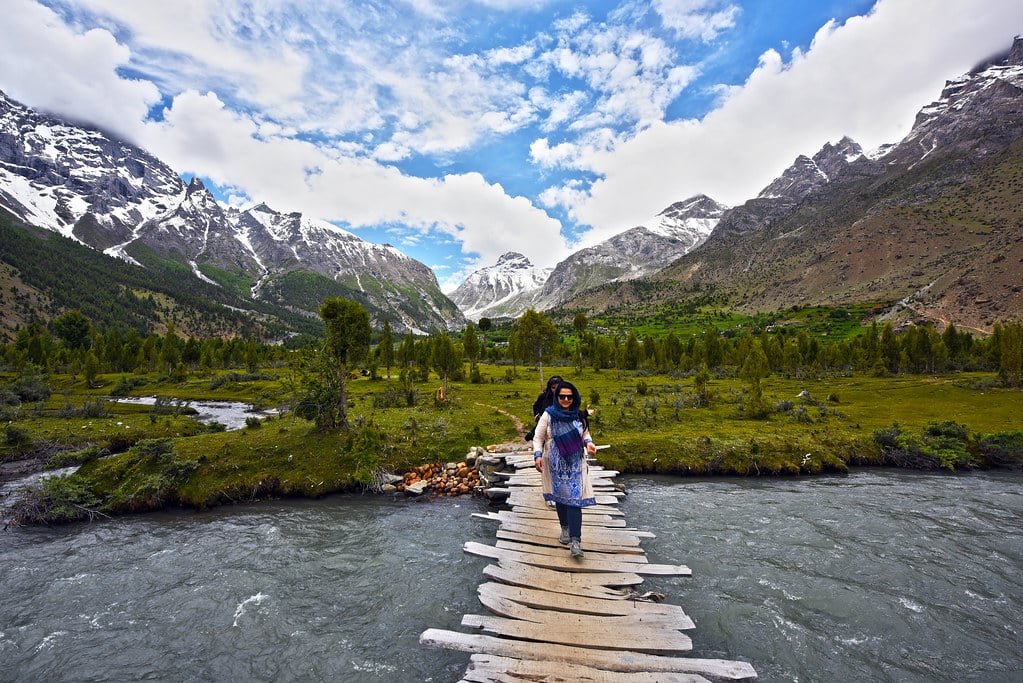 Deosai National Park
Deosai is located at a drive of 2 hours from Skardu in Jeep. This place is famous for its beautiful wild forests and also known as the land of giants. Tourists can enjoy the beauty of Flora and Fauna, Golden Marmot, and can explore this beautiful place to its fullest.
Skardu Perks
Skardu, the beautiful city of Gilgit-Baltistan, is situated at the confluence of two rivers 9Indus and Shigar) with an elevation of 2500 meters.
Skardu Lakes
Skardu has some beautiful lakes like Kachura lake, Sadpara Lake, Upper Kachura lake, blind lake. Tourists can enjoy many activities at these lakes like fishing, boating, camping, etc. Kachura lake is surrounded by many fruit trees full of apples, apricot, and peaches.
FAQs
How is the weather of Skardu?
In Skardu, the highest temperature occurred in summer season is 23°C (73.4°F), and lows go to 10°C (50°F). July remains the warmest month in Skardu, with typical rain of 21mm.
Hotels in Skardu
Many accommodation and hotels are available in cheap rates in Skardu. Some of the best hotels in Skardu are Hargisa hut, Shangrila resort, Shigar Fort residence, Skardu villas, etc.
Roads to Skardu
The road drive to Skardu is connected through Karakorum Highway. This road has no blockage or traffic problems unless the weather issues. Tourists are using this road all the way to travel Gilgit and further to Skardu. Tourists can also get any public transport from Islamabad or Rawalpindi to Gilgit and further take jeep or private transport to travel to Skardu.
Best time to Visit Skardu
The best time to visit Skardu is from March to May. As these seasons are preferring to explore the beauty of Skardu. During these months and summers, the hotel prices get double, and availability also becomes low. In winters or snowing days, the prices become stable as tourists slow down. But if you're a snow lover, then visit this place.
How to reach Skardu
Skardu is accessible bey two modes of transport i.e., by road or by air. Tourists can avail of the services of a public bus from Islamabad. The bus takes you from the Karakoram Highway route. Another way is to reach through an airplane. During the flight, one can see a glimpse of Nanga Parbat and K2.
Is it Safe to visit Skardu?
On Oct 7, 2019, there were some restrictions and traveling in Skardu and its adjusted areas, but Skardu is entirely a safe and secure place to visit. In snowy and rainy weather, it is recommended to restrict your travel plans for this area.
Attractions for Foreigners in Skardu
Tourists can enjoy various kinds of activities here like trekking to K2 base camp, mountaineering, hiking, and fishing. Visiting flora and fauna or walking to Narsok is also a memorable thing for the visitor.
Distances (Travel Time) to Skardu
Islamabad to Kaghan/Naran Valley: 7 Hours by Road
Islamabad to Naran Valley (via Abbottabad) -To Skardu
Islamabad to Abbottabad: 2 hours 59 min (161.6 km)
Abbottabad to Naran Valley: 4 h 30 min (147.3 km)
Naran Valley to Chilas via Babusar Pass: 114km, 4 Hours by Road
Chilas to Raikot Bridge: 56.4km, 2 Hours by Road:
Raikot Bridge to Jaglot: 30.8km, 45 minutes
Jaglot to Skardu: 177km, 6 hours
Skardu Tour Packages
AJKTOURS offers a variety of customized tailor-made tour packages meeting your expectations and needs. We do offer Hotels accommodation, fully guided tour, transportation, and bed & breakfast. Skardu Tour Packages –Customize and book tour packages in Skardu and find the best deals on Skardu Holidays Tour Packages.