Banjosa Lake
It is situated 20 kilometers from Rawalakot, at an altitude of 1981 meters. Its scenic beauty and impressive surrounding is compelling and attracts tourists to reach here to enjoy the nature. Amidst the captivating beauty of Banjosa, the artificial lake reflects the dense forest standing along the surroundings of the resting calm waters of Banjosa Lake.
There are many private and government guest houses on banjosa Lake, we offer booking of private guest houses only. Hotel Night Bridge, Heaven Dreams, Gulf Palace, PWD Guest House Banjosa, Local Government Guest House Banjosa are very popular among tourists.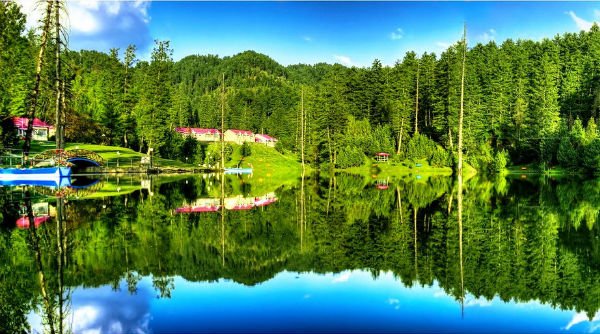 The nearby worth-seeing areas of Banjosa are Jandali, Hussain kot (the native town of the great freedom fighter captain Hussain Khan) and Devi Gali which can not be simply bypassed for a pleasure trip. The distance parting these destinations from Banjosa are 3 kms, 4kms and 12kms respectively. These places portray rich inherent natural beauty encompassing all others while awaiting visitors for a comfortable stay. There are of a few private rest houses on the way to Banjosa from Rawalakot. Also,Ghorimar is situated 20kms from Khaigala awaiting ones arrival to explore the fascinating beauty over-looking the sub-valley of Rawalakot and Bagh.
For booking of hotels or guest houses near banjosa and more information
+92-345-5889945
email : info@ajktours.com
For booking Call Now: 03455889945 or drop us an Email at info@ajktours.com