| | | | |
| --- | --- | --- | --- |
| Name: | Umar | Company/Institute: | NUST |
| Trip Type: | Group | Contact/Email: | Not Available |
First of all I'm really thankful to AJKTOURS for guiding us for the trip and providing us with all necessary logistics for its successful execution. Comfort of transportation and accommodation made this trip a memorable one and indeed this was a life time experience for the whole group of seven.

Our journey started from Islamabad on June 25th, 2012 at 1000 hours. We stayed near Murree for tea and reached Muzaffarabad by the lunch time, i.e. around 1500. We had our lunch there and left for Kutton around 1700 hours. As we were passing by Patika, weather started to change its colors. Before we could reach KundalShahi, heavy rain started. So, we completed the journey from KundalShahi to Kutton Resorts in this rain and complete darkness, which was the first adventure of our trip. We reached Kutton around 2000 hours and got our rooms for first night.Next Morning, June 26th, we started our journey ahead. Lush green mountains, cleanliness and calm in atmosphere are real beauties of Kutton (Jagran Valley). By the lunch time we reached Sharda, a really scenic place. Some people believe that Sharda is the most beautiful place in the valley, but we really don't, as we had to visit some more beautiful places. In Sharda, we visited the ruins of a university and took lunch on the bank of river and started our journey towards Kel. By 1800 hours we reached Kel and enjoyed the beauty of dusk there.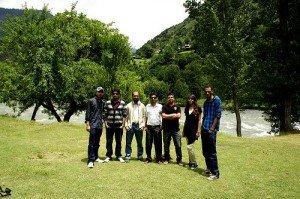 Next day, June 27th, turned out to be the most adventurous day of our trip. After breakfast we started hiking to ArangKel, a must visit place for those who can afford slightly steep hiking of 2 hours. On our way back to Kel, we lost in jungle in rain. That one hour was the most exciting and fearful in the whole trip. At last we reached back to Kel and after lunch left for Taobutt. Large forest on one side of river is the real beauty of this place.

Next Morning, June 28th, we woke up early in the morning to enjoy the beauty of dawn in Taobutt. There we realized that why Kashmir is called the real heaven on earth. After wandering there about 2 hours, we started our journey backward. By lunch time, we reached Kel and by night reached back in Keran and stayed last night there.Keran is very beautiful place on the border of Azad and Occupied Kashmir, only river is the boundary between the two parts.

Last day, June 29th, after breakfast we left Keran and had lunch in PC Muzaffarabad and came back to Islamabad by 2000 hours.

These were the five days with full of thrill, excitement and life time experience. I hope that you have got a clear picture our trip. I highly recommend this place and every person who loves nature, must visit it.
Wajahat Raza
I am very passionate about traveling, and visited almost all of the northern areas of Pakistan up to china border via hunza. But after getting married, I was not very comfortable about traveling and outing. As remote places are not very secure specially when it comes to travelling with family. But my experience of traveling with AJK tours was awesome. Their most experienced drivers gave me sense of being secured and their guiding allowed us to enjoy and explore most about the places. It was overall a very relaxing and enjoyable holiday trip. Thanks to AJK tours for arranging such a wounder full trip for us.